Chief of Staff to the CEO (United Kingdom or remote within EMEA)
Business Strategy & Operations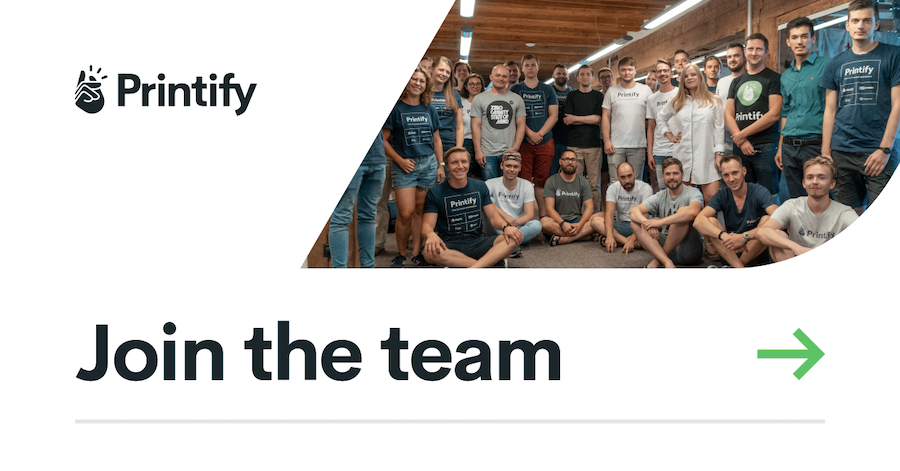 Note for Printify senior roles:
– We support remote work and this role can be held from the UK or from any country in an EMEA time zone, where the majority of the team is based.
– Within the right timezones, employees can work from any country where they have the right to work.
– For candidates with no right to live and work in any EMEA country, Printify could provide relocation to Latvia or Estonia, provided the candidate meets immigration criteria set by those countries.
Printify is a high-growth, print-on-demand platform that connects e-commerce merchants and print-on-demand manufacturers. We work in a fast-paced and ever-developing industry with endless growth opportunities.
The Chief of Staff supports our Founder and CEO, James, in running Printify's operational tasks and driving important cross-departmental projects. You will assist in amplifying his communication internally and externally, and work closely with (and across) all teams while remaining independent from a specific functional department.
As a part of the leadership team, you will gain insight into all relevant business areas, and actively influence the development and growth of the company. You will actively lead and track operational progress, as well as own strategic initiatives and critical transformation projects.
As Chief of Staff, you will report directly to the CEO and become a key member of Printify's leadership team.
After growing into this role over the course of a few years, you will have the opportunity to move up within the company as an operational leader or to pursue your own entrepreneurial dreams with invaluable experience.
CEO and Leadership Support:
Support the CEO by ensuring prioritization of time and resources based on evolving business imperatives
Moderate top management and company-wide meetings
Work closely with the Senior Management across the company in order to support them in growing and developing their departments




Strategy:
Work hand in hand with the CEO, gain insight into all relevant business areas, and actively influence the development and growth of the company
Drive organizational development and conduct internal strategy workshops
Work on some of the most important strategic & operational topics from ideation, research, up until initial implementation




Communication:
Amplify the CEO's communication inside the organization and with external stakeholders
Define and develop internal and external touchpoints
Provide clear updates to the CEO and Executive team on progress, blockers and risks




OKR, reporting and business planning:
Take responsibility for the company-wide quarterly OKR process in line with the company strategy (OKR-Champion)
Own the regular OKR reporting both internally and for our Investors
Help company's departments scale by managing scale progress reviews and OKR analysis to direct budgeting and investment priorities




Projects:
Lead cross-functional projects that are important for the company
Assume day-to-day Portfolio Management of critical transformation projects and enable cross-departmental collaboration
Support the management team in the fundraising process
Minimum of 5 years work experience, including either a tier-one consulting company, Private Equity, previous Chief of Staff / Executive project management role or a management position in a start-up
Experience working in or with e-commerce or online marketplace companies
Very strong problem-solving and analytical skills: proven ability to break problems down into components and propose efficient solutions to drive operational excellence
Hands on project management skills with strong stakeholder management abilities at all levels
Full working proficiency in English
Excellent communication skills – experience building relationships across departments and resolving conflicts
A high level of business acumen and analytical skill with an understanding of how to measure the success of a business
Positive, dynamic, hands-on, and solution-oriented mindset
Extensive experience in a fast growing organization with broad cross-functional responsibilities covering strategy, corporate development, and operations
Extensive project management experience leading key company-wide initiatives such as building new departments, launching new products and geographies
Experience of working with senior executives and ability to make a good business case and convince people to help you execute
Stock options so you own a part of Printify
Remote work is possible and encouraged from anywhere across Europe
International relocation support for international candidates who wish to work in Riga or Tallinn
Career development opportunities – mentorship, internal meetups & hackathons
Flexible work schedule, start your workday between 7AM and 11AM
Health insurance to support your well-being (in Latvia and Estonia)
A budget for insurance and gym to remote employees
Learning budget as a % of your annual salary
Modern & ergonomic office space in Printify House in Riga
Access to the gym in Printify House
Free food in Printify House: breakfast, snacks, and Friday lunch
Printifyers come from more than 20 countries
Our team has grown to more than 400 team members (and growing!)
We are the 15th America's fastest-growing company in 2020 (Financial Times)
Join Printify as Chief of Staff to the CEO (United Kingdom or remote within EMEA)