Marketing & Communications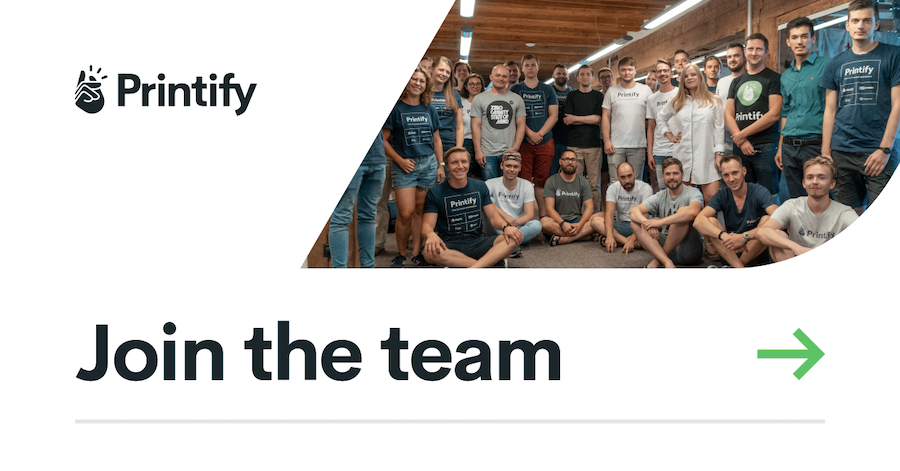 As Chief Marketing Officer at Printify (CMO), you will directly influence many aspects of the business. Duties pertain to a variety of directives; this includes branding, custom acquisition, product roadmaps, sales, and other relevant fields. The ultimate goal of this position is to sustain 3X year-over-year growth.
Brand Voice: Lead our efforts to create a unique Printify brand voice, both internally and externally. Ensure the brand's message is strong and consistent across all channels, marketing efforts, etc.
Printify Story: Develop and communicate our company narrative – differentiating our efforts to the outside world.
Public Relations: Drive the communication of successes, stories, and significant mentions through the press.
Go-to-Market Strategy: Develop and execute a GTM plan for entering new geographies, niches, and demographics.
Ad-Budget Scaling: Develop and expand channels (both new and existing) by managing a multi-million dollar ad budget.
New Markets: Develop and execute go-to-market strategies for new geographies.
Content Marketing: Improve SEO material, site content, knowledge center, etc.
Product Marketing: Develop effective communication regarding new features and merchandise to existing users; develop and improve user connections.
Value Propositioning: Convey Printify propositions, differentiators, and value to relevant parties.
Market Research: Conduct market research tasks for Product development.
Provide leadership and development for the marketing organization; lead, develop, motivate, and retain high-performing staff.
Build best-in-class internal marketing & creative capabilities.
Develop appropriate succession planning across marketing functions within the company.
Build and maintain relationships with outside partners and vendors, expand relationships with existing partners.
Implement best in class marketing processes, systems, tools, and metrics
Drive standardized operating procedures and protocols to maximize execution speeds
Integrate market insights and marketing activation processes that help the Printify brand compete
Develop best-in-class approaches for customer-channel development. Align Printify marketing strategies and plans with key customers – cementing Printify as a thought leader within the marketplace.
Create a suite of reporting tools that allow for easy, intuitive reporting to key stakeholders – along with actionable insights.
3+ years in a marketing leadership role (CMO, marketing director, head of growth, etc.)
Cross-functional knowledge/direct experience in all aspects of marketing including brand marketing, consumer promotion, marketing insights and analytics, advertising and promotion, and agency management.
Experience working in a product company.
Familiarity with agile marketing frameworks and iterative improvement approaches.
Experience in managing and optimizing multi-million dollar marketing budgets on international scales.
Experience working in a matrix organization with cross-functional teams.
Outstanding verbal and written communication skills.
Experience managing product marketing function.
Strong analytics capabilities; a deep understanding of data analysis and predictive science.
Rapid testing, iteration, and implementation – beyond obvious solutions.
Stock options; employees own a part of Printify.
Remote work opportunities.
An amazing workplace culture with flexible work scheduling.
Health Insurance.
Career development events, conferences, and mentorships.
Free Food: breakfast, snacks, and Friday lunch.
We offer relocation support for international candidates to our headquarters in Latvia. This pertains to immigration processes, housing, and even direct financial support.
Join Printify as Chief Marketing Officer