Marketing & Communications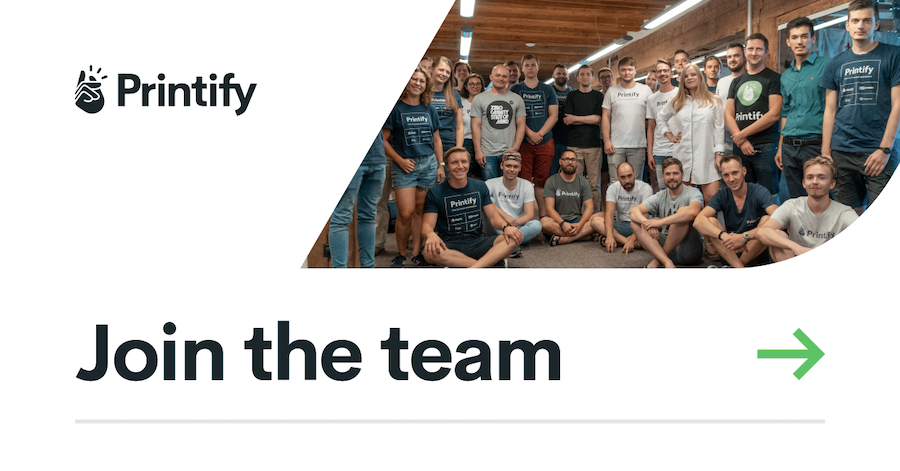 Printify is a high-growth, print-on-demand platform that connects e-commerce merchants and print-on-demand manufacturers. We work in a fast-paced and ever-developing industry with endless growth opportunities.
Value Propositioning: Convey Printify propositions, differentiators, and value to relevant parties.
Define and manage the brand communication strategy using a variety of media
Own the development and messaging of the brand narrative
Own the strategic input briefs for Brand campaigns, working with the Marketing team to deliver innovative, relevant, and data driven demand driving initiatives.
Be the Brand champion and voice of the Printify customer, commissioning and reviewing relevant research to help us properly understand customer needs.
Deeply understand and articulate the target customer; fully understanding new and competitive products, trends, and opportunities.
Review and analyze global, regional, and local market data to understand current trends within the brand, the brand's competitive set and other adjacent players.
3+ years of brand marketing experience
3+ years experience of building and executing high-impact product and service campaigns that cut through, and are distinctive and memorable.
Experience using data and metrics to measure impact and determine improvement.
Cross-functional knowledge/direct experience in all aspects of marketing including brand marketing, consumer promotion, marketing insights and analytics, advertising and promotion, and agency
Experience managing a brand across multiple markets
Outstanding verbal and written communication skills.
Deep understanding of the USA market – has lived or studied in the USA for an extended period of time.
Career development opportunities – mentorship, internal meetups & hackathons
Learning budget as a % of your annual salary
Stock options so you own a part of Printify
Flexible work schedule, start your workday between 7AM and 11AM
Health insurance to support your well-being (in Latvia and Estonia)
Remote work is possible and encouraged from anywhere across Europe
International relocation support for international candidates who wish to work in Riga or Tallinn
Modern & ergonomic office space in Printify House in Riga
Access to the gym in Printify House
Free food in Printify House: breakfast, snacks, and Friday lunch
Printifyers come from more than 20 countries
Our team has grown to more than 400 team members (and growing!)
We are the 15th America's fastest-growing company in 2020 (Financial Times)
Join Printify as Brand Manager