How to Choose Sock Length & Style / Comparison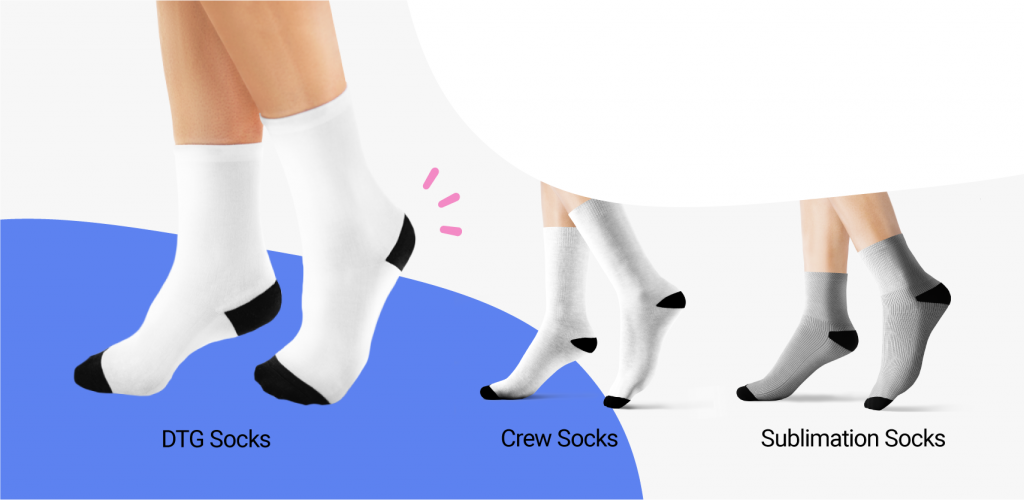 Choosing the right sock type is integral to both your design and the market that you are aiming to sell to. There are differences, some are subtle and some are obvious, either way, these differences will determine everything from selling price to the type of printing technique available. 
We will take an in-depth look at the different sock types we have available and which ones might suit your customers the best, from crew to ¾ length.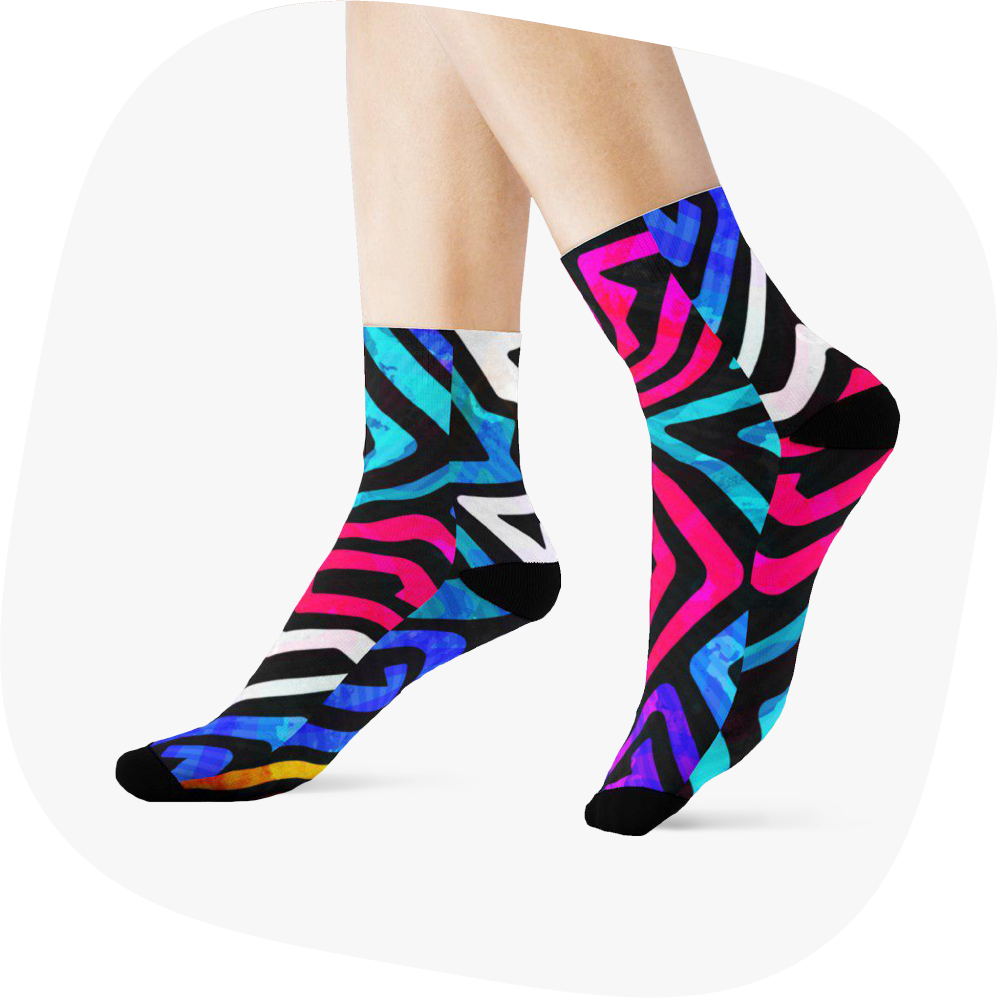 Crew socks are available in three styles, crew, ankle, and ¾ crew lengths. Each style has it's own uses, for example, the ¾ crew sock is perfect for the colder months, as the sock will cover all the way up to the mid-calf. 
During summer, the ankle crew is ideal to wear with sneakers, if you design with this in mind, creating a contrasting pop of color, the sock becomes more than just a practical item. The standard crew sock is not without its uses, this sock sits above the ankle and is ideal for a sporty, active lifestyle. However, in recent years, the crew has seen a massive comeback as a fashion powerhouse, taking pride of place as a standout fashion accessory.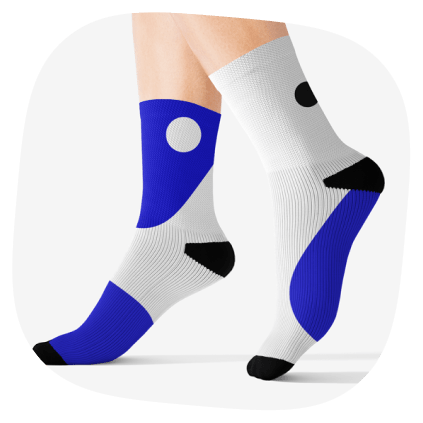 These sublimation socks are available in crew length only, but what they lack in this department they certainly make up for in others. Sublimation printing is a technique that allows your designs to run from seam to seam, giving a true all-over-print look. So, now you aren't only getting a high-quality print, but also an incredibly comfortable sock with a fleece lining that your customers will be wearing all year round. 
Sublimation socks are perfect for designs that feature bright colors, bold prints, and contrasting patterns. So, if your style is fun, friendly, and designed to make a statement, sublimation socks are for you.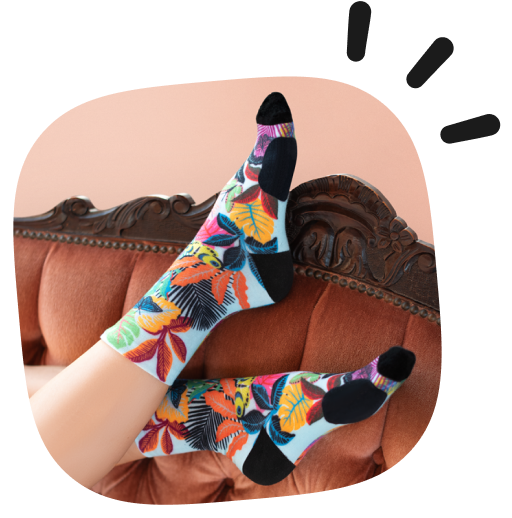 Similar to sublimation socks, DTG socks are available in one size. What sets DTG socks apart is their ability to stretch, they are truly one size fits all, from women's size 5 up to men's size 12 (US).  DTG stands for direct to garment printing, unlike sublimation, the printing method is exactly as it sounds, your designs are printed directly to the sock. DTG allows helps you to achieve vibrant colors with your designs, and unlike sublimation isn't affected by any color drain at the seams. 
This sock is available in crew length, again showing the popularity of this style. With a fleece lining and a cushioned bottom, these socks have a premium feel that you won't want to take off. 
Which Style to Choose?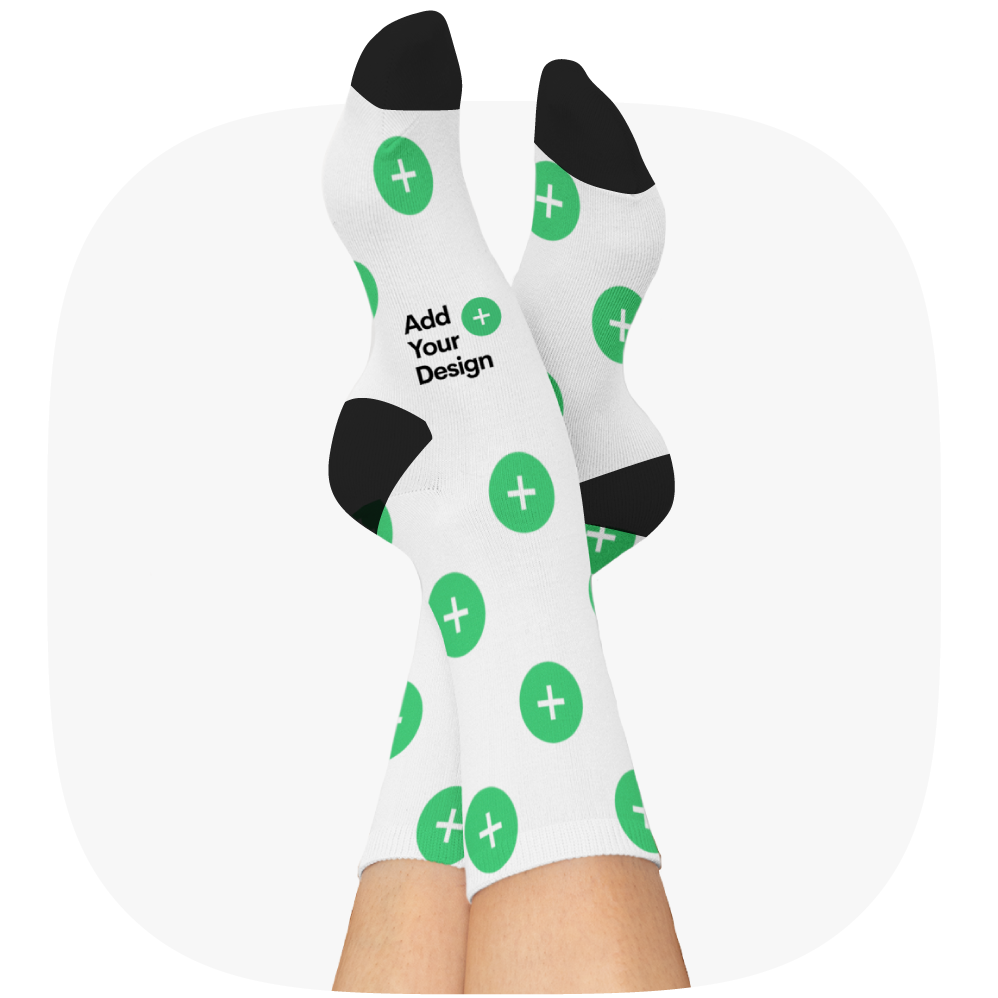 Now you have been loaded with all the information about the different styles and print techniques and how to customize socks. Next, you need to understand which style is for you. In truth, they are all quite similar,. What is worth considering is what kind of designs you plan on doing. If you are going for a bright, high contrast color, it might be worth taking the DTG socks.
If, for example, you want to achieve a seamless, all-over print with recurring patterns, then you should go with the sublimation socks. This also applies to the Crew socks, as they use the sublimation printing technique, however with the Crew Socks you have more lengths at your disposal.