Enamel Bowls Have Us Absolutely Enamored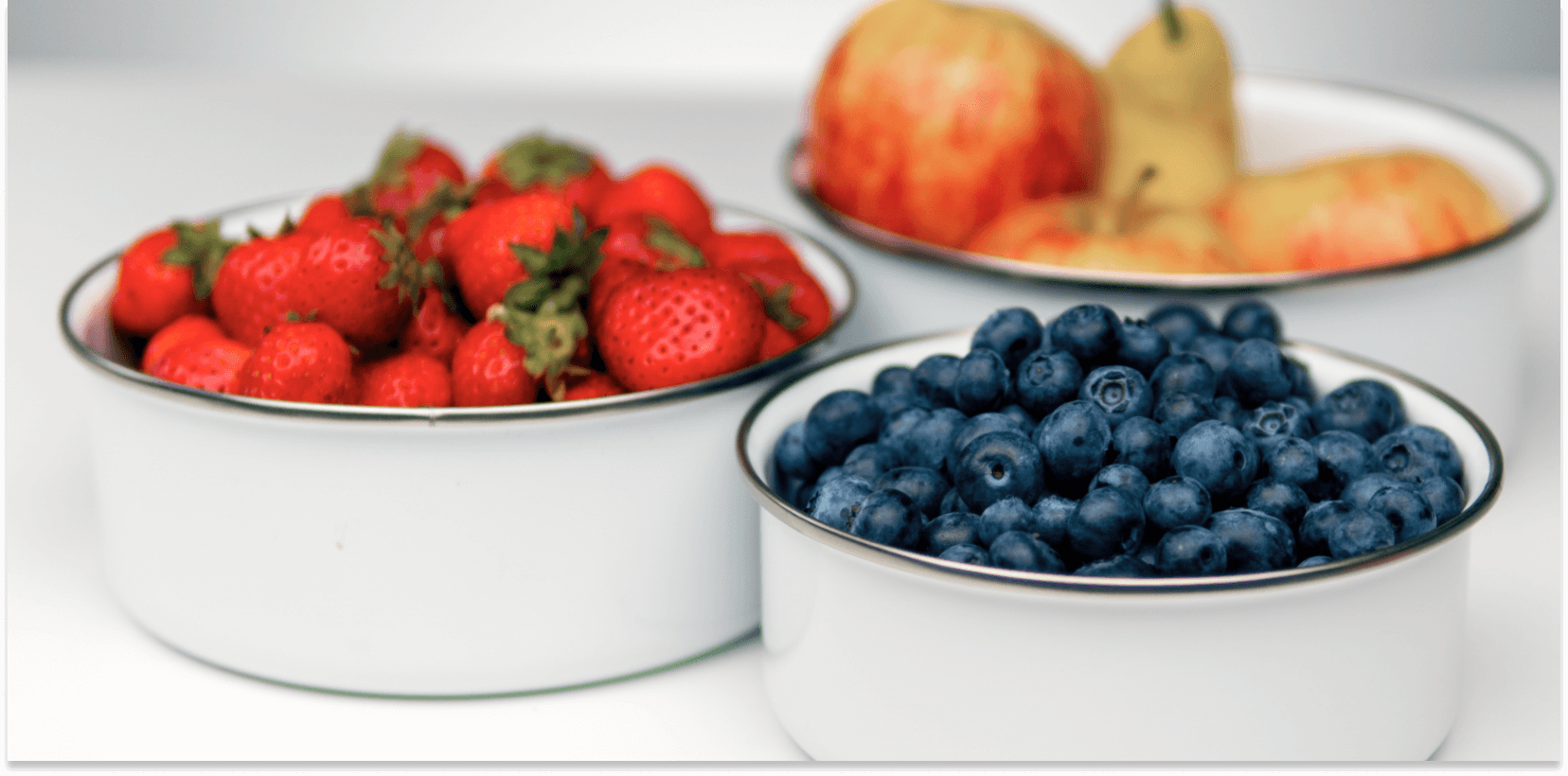 Enamelware is everywhere again. The centuries-old kitchenware is showing up in boutiques, general stores, lifestyle blogs, camping gear shops, and of course, your favorite online store. It seems everyone wants a piece of these durable, light tinware that was once considered a poor man's ceramic. But what exactly is enamel bowl and why has it stood the test of time?
Enamelware is metal, aluminum, or cast-iron cookware coated in a porcelain lining that makes it easy to clean, safe against heat, and long-lasting. Unlike today, traditional enamelware is not made by machine but, instead, through a multi-step process by coating cast iron or steel with a layer of powdered glass & fired in a kiln. This coating prevents rust and helps evenly distribute heat throughout the surface. People have found new and exciting ways to take advantage of this durable item for everyday use.
Enamel Stainless Steel Bowls Make For Trendy Kitchen Decor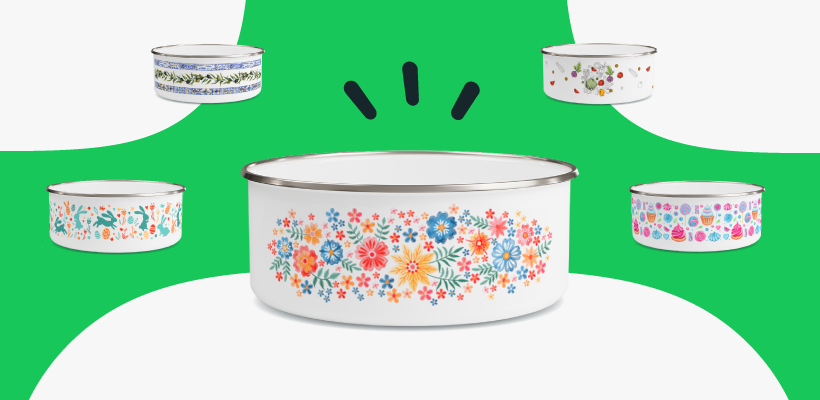 Enamel bowls have found their way into our homes in different styles. From boldly patterned, vintage European pieces that now sell for top dollar at auction, to today's print of demand industry that makes them easy to customize and make them your own. They continue to be simple, casual, budget-friendly, charming tokens of kitchenware sculpted into sleek, contemporary silhouettes that make as much sense in a downtown loft as in a log cabin.
So why are they making the round in our homes again and how could one material have such universal appeal? For many, the draw is its old-fashioned sensibility. Enamel has a nostalgic quality to it, but it's not too loud and bold. It's just the right amount of retro. This means it can silently mimic any space it is put and add a touch of grandma-chicness that many associates with comfort. Many people are now stocking enamel bowls and plates to take a long weekend camping trip, the same way our parents and grandparents did. Enamelware is both sentimental and functional, which is the reason it is here to stay.
Create Your Own Bowls With Printify
Our enamel bowls are food safe and easy to use and come with a plastic lid to help keep your food fresh for longer. See more here.
Why We Love Enamel Bowls?
Enamel Bowls Are 100% Food Safe.
Since enamelware doesn't react with any acids in food, it is 100% food safe. Enamel bowls are great for serving, keeping food in the fridge or freezer, and storing food in the pantry, all without damaging the coating or design. Tea, coffee, and other foods may stain the enamel but this is natural. When you use enamel dinnerware, the steel is protected by porcelain, so you can be sure that there is no metal contact with your food. Although the porcelain can chip and reveal the metal underneath, it will naturally oxidize and still be perfectly safe to use. Children and adults can enjoy their food without the risk of anything contamination. Keep in mind that our enamel bowls come with anti-slip underlining and should not be used for direct heating. Extreme temperature changes may also cause damage, so allow your product to return to room temperature before washing. Enamel is not microwave-safe and should not be used to reheat food in a microwave.
Enamel Bowls Are Kid-Safe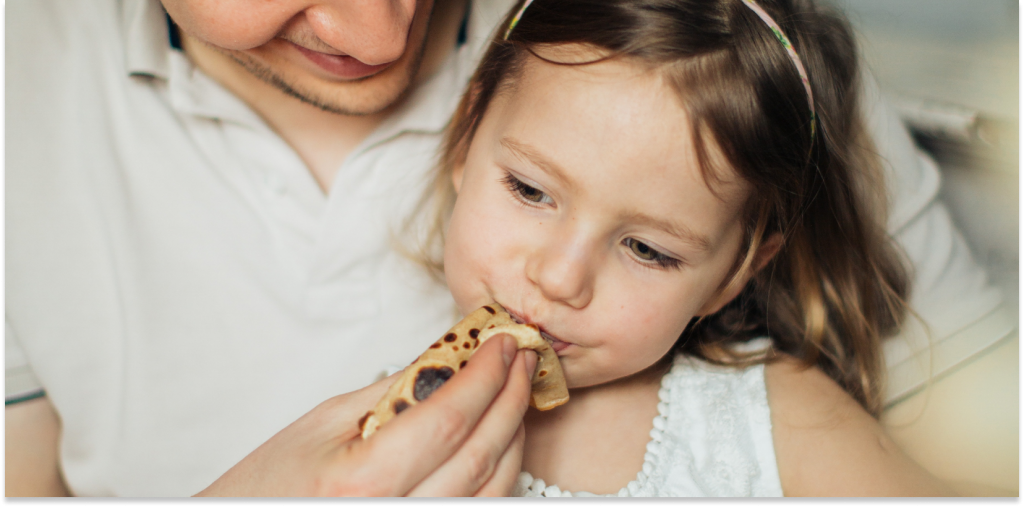 When you're looking for safe child-proof ways to store snacks and food for your children, you're sure to come across enamel as an option. Enamelware is super safe for children and offers a number of benefits including customization. Enamel bowl customization allows for a variety of features that make it the ideal choice for children and adults alike. You can design enamel bowls to be full of quirky characters, color, and fun by customizing them with a variety of color combinations and versatile designs for the perfect kid snack bowl.
Enamel Bowls Are Hard-Wearing
Enamelware is extremely hard-wearing and long-lasting. This is because it made with a naturally hardwearing stainless steel metal with a top coating of powdered glass. When this powder is heated to a high temperature it fuses to the metal, creating a strong, virtually indestructible surface. This process ensures that the pieces are long-lasting, durable, lightweight, easy to clean, unbreakable, and uniquely stylish. Enamel bowls can withstand food that has been heated to fairly high temperatures or food that is frozen, so there's no need to worry about it being fragile.
Enamel Bowls Are Shatterproof
Another excellent advantage of enamel bowls is that they are shatterproof. Everyday use makes them prone to being dropped frequently. If enamel is dropped, there is a possibility it could chip, but it won't ever shatter, which if you have kids or pets, is music to the ears. You can continue to use it safely after it's chipped, as long as you keep it clean. That is why it is the perfect fit for grungy outdoor adventures such as camping in the woods or hiking up a mountain. It really would be a challenge for you to destroy tough enamelware.
Enamel Bowls Are Easy to Clean and Dishwasher Safe
Enamel is also really easy to clean. It's dishwasher safe, so there are no hours of scrubbing or soaking required, although sometimes soaking can help. Just pop the bowl in the dishwasher and let the machine take care of the work. If you have some seriously tough stains, remove them by using lemon juice. The assurance that your products are always clean and ready to use will help you to feel better about choosing to use enamel bowls.
Enamel Bowls Retain Heat
Our enamel bowls come with a tight-fitting lid to help keep food fresh and warm and also cover the food for storage. They also make great alternative for glass bowls for serving food. Enamelware is excellent for holding heat, which makes it easier to serve food safely. They retain an even level of heat throughout which helps to avoid sudden drops in temperature and helps keep your dishes warm throughout. Cooking your food to safe temperatures is one of the most important parts of maintaining good food hygiene in your kitchen and at your table too. When you're ready to serve your food, it shouldn't cool down too quickly, and your enamelware will remain solid and durable.
Why Customized Enamel Bowls Are Your Next Bestsellers?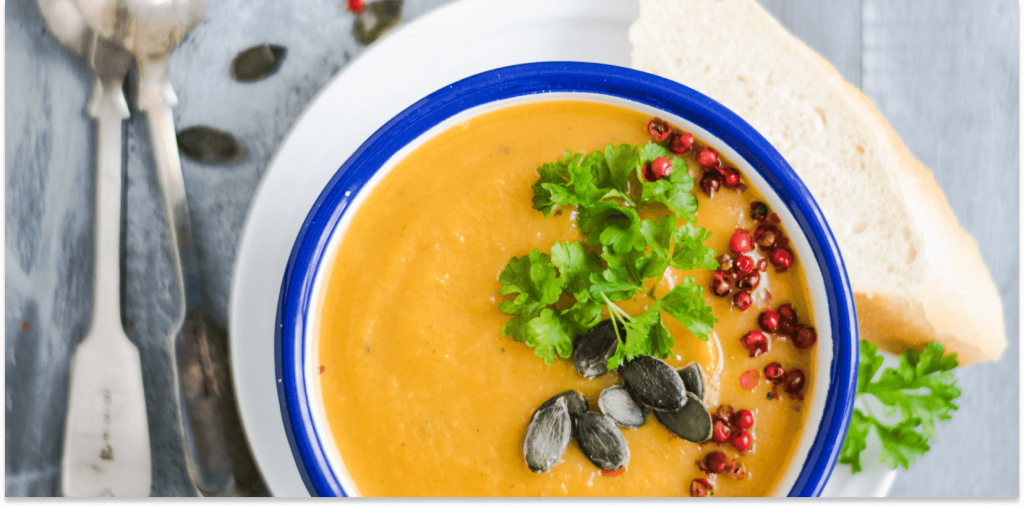 Fun and Trendy Home Decor
Farmhouse chic with a classic twist is a growing trend as people staying more at home want to have a cozy and chic kitchen. Enamelware is especially popular in modern farmhouse decor. Enamel bowls make for great accent pieces and are an exciting way to add interest and old-fashioned charm to your everyday home furnishings. They also make for great personalized pet bowls complete with pet names! With clean, classic lines, enamel bowls create a timeless look for home and garden that is never uptight or fussy. They are fresh and flattering in any room, and when you add fanciful colors, are sure to add cheerful energy to your space. Enamelware brings retro flair to everyday furnishings while keeping the vibe hip and trendy.
Enamel Bowls as Party Favors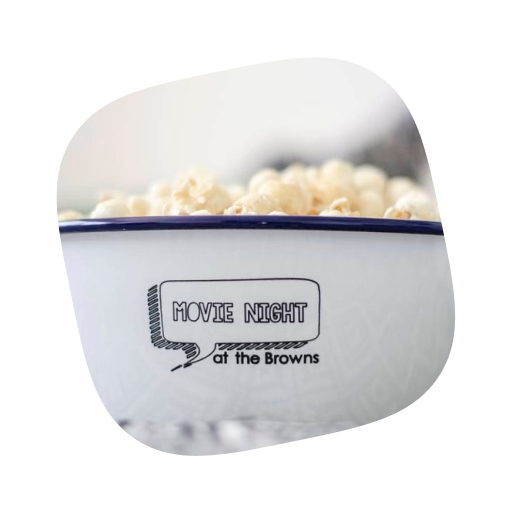 Enamel Bowls as Pet Bowls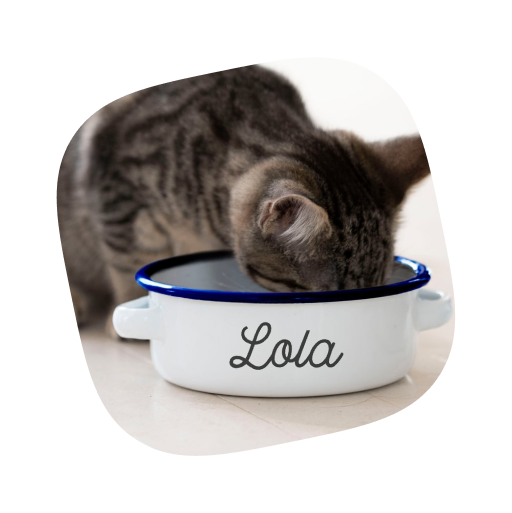 Festive and Chic Holiday Enamel Bowls 
The holidays are a time when we all love adding bright, festive colors into our homes including on dishes and pitchers. Festive decor such as Christmas and Halloween give our homes an instant cheery feeling. Enamelware has been popular for decades as effortless holiday decor, not only because of its usefulness but also because of its understated good looks. The crisp white tones of enamel bowls lift our spirits and freshen every decor style. They add a cheerful, bright touch that is casual and relaxed. If you're wondering how to customize enamel bowls this coming holiday or for events, you could start with a piece or two, just to see how they perform in your store. There are many ways to make them fun such as bold colorful statements in the kitchen, at backyard barbeque parties for the 4th of July, your wedding decor, or for the next winter cabin trip for Christmas. 
Enamel Bowls as Wedding Decor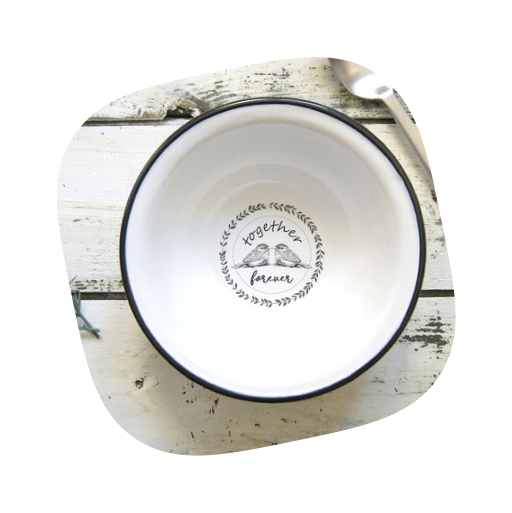 Enamel Bowls as Holiday Decor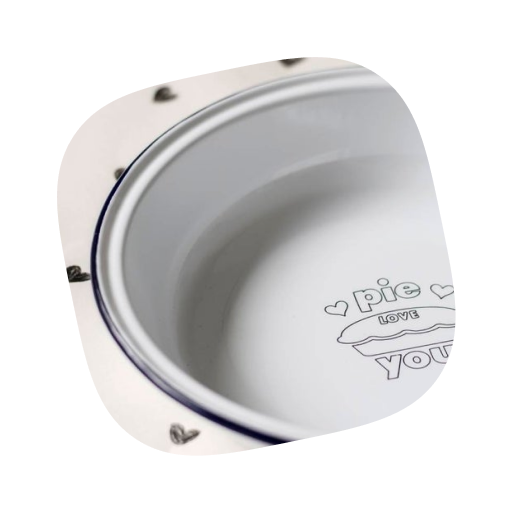 Enamel Bowls as Gifts That Last Forever
Vintage dishes and kitchenware manufactured decades ago are enjoying a renaissance today and these vintage pieces are sought after online and at thrift stores. Because of the overwhelming uptake in demand for this old-fashioned, familiar kitchenware, they make enamel bowls a cool one-of-a-kind gift idea. With this much vintage appeal, style, and durability, along with fresh, modern flair, we believe it's the perfect fit for everyone, whether their place is a country cottage, modern loft, or vintage farmhouse. Fresh, fun, and functional, enamel bowls as gifts are sure to make anyone smile.
Enamel Bowls as Vintage Pieces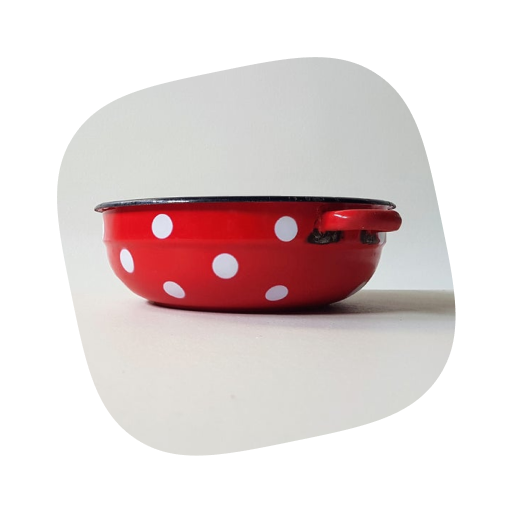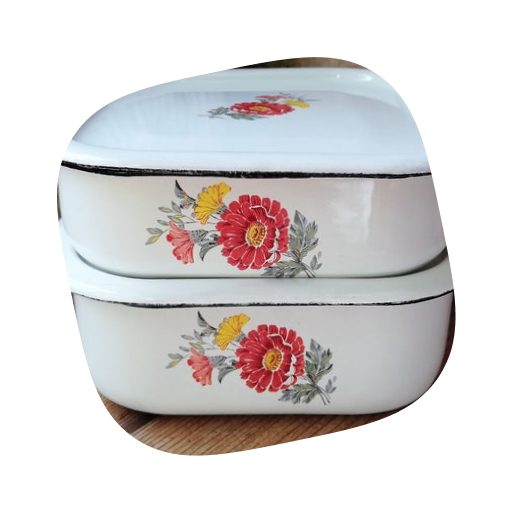 Enamel Bowls as Gifts
Handling Tips for Your Enamel Bowls
Cleaning Tips for Your Enamel Bowls
1. Handwash With Soap
For everyday cleaning, you may wash by hand with mild dish soap.
2. Enamel Bowls in the Dishwasher
Many enamel products are dishwasher safe. If you wish to clean them in this manner, make sure to arrange the pieces individually, so they don't bang against other dishes and cause chipping.
3. Dry Your Enamel Bowls Thoroughly
After washing, dry enamelware thoroughly inside and out, because water can encourage corrosion especially if there is an area of the metal that is exposed.
4. Avoid Harsh Chemicals
Do not clean your enamelware with vinegar, harsh abrasive materials, or detergents. If you wish to go ahead, test a small area first & clean using these tips at your own risk.
Repairing Chipped Enamel Bowls
Even though Enamel bowls are sturdy, like any piece of dishware, they can show signs of wear with time, get chipped or dented if dropped, knocked, or mishandled. This is normal in a product like this.
What to Do When Your Enamel Bowl Chips
Chips happen. If they do, you can apply naval jelly in the exposed area for 10 minutes to prevent rusting. You can also coat with cooking oil.
If chips happen where food or drink may come into contact, it is recommended to discontinue use, not because it's not food safe. But because these small chips can turn into bigger ones that you could end up ingesting.
If you want to try and repair chipped enamel bowls, we found this helpful article that you can follow. Always test a small area first & repair using these tips at your own risk.
Where to Find Custom Enamel Bowls for Selling?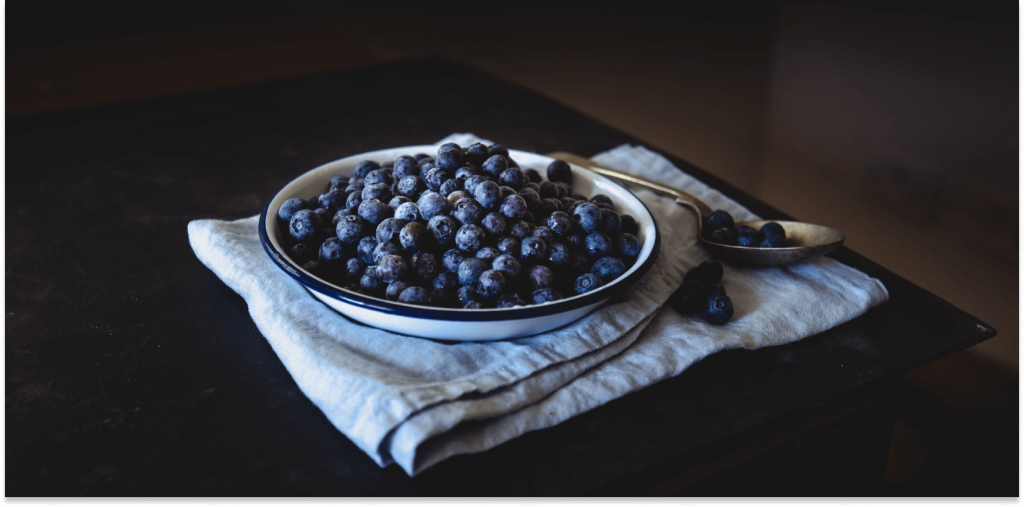 In the Printify catalog, you can find many customizable products for you to design and sell. This includes these cool hipster chic enamel bowls that are just waiting for that extra touch. They are so durable and stylish and are made of stainless steel. They come with a translucent plastic lid and anti-slip backing. Printify enamel bowls are available in three sizes of 20oz, 30oz, 40oz. Your designs go all around the exterior.
Printify is a print on demand platform where products such as t-shirts, hoodies, shoes, our newly added face masks, as well as household items such as mugs, pillowcases, blankets, magnets, and stickers, can be customized and sold on integrated platforms such as Etsy, Shopify, Bigcommerce, and eBay. Once your customer buys an enamel bowl from your online store, the order is sent to your chosen Print Provider, who begins the process of production. The print on demand business model is ideal for small businesses. It removes the need for bulk storage and inventory, a large sum in investment capital, and enrollment of shipping partners. You only need to design and market your products.
How to Design Enamel Bowls Online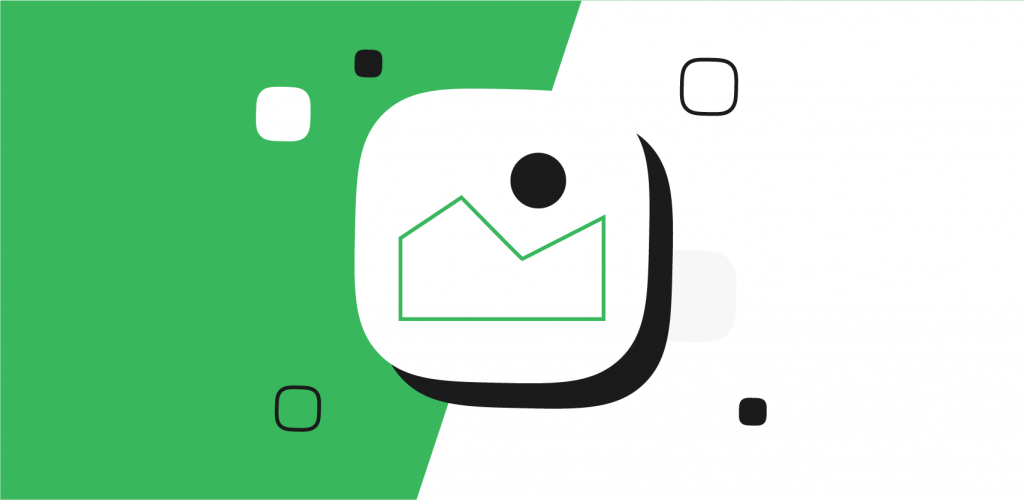 Printify offers an easy to use free Printify Mockup Generator to help you design products and create profitable online businesses. 
To design your enamel bowls online, pick the custom enamel bowl from the catalog. Make and ensure that your designs fit the requirements for a high-quality print. Each product on our mockup generator has the size requirements indicated at the bottom right of the user panel. Once you apply your design, you can choose to see the preview and check the placement and sizing to see if it looks exactly how you want it. Please note that we also do quality checks for each of your products and we will let you know if it does not meet the printing standards.
Use the "Preview Mode" to view enamel bowls with your designs on them. You can preview it from different angles and also get high-quality product images for your store. Once you make a sale, your enamel bowls will be produced and shipped directly to your customers. You don't need to worry about pre-stocking or storage, you can freely design as many face enamel bowls as you want for your store.
Start Selling Enamel Bowls With Printify
With no order minimum, a great mockup generator, and this article that gives you great design ideas, you'd be remiss not to start your very own enamel bowl business today.  We are well equipped to manage your sales through our automated production and fulfillment partners with a customer base in both the USA and Europe. Don't miss out, join the thousands of sellers designing and selling their own enamel bowls today.
Share the article
Topics