Biodegradable Phone Case – The Eco Approach to Protecting Your Phone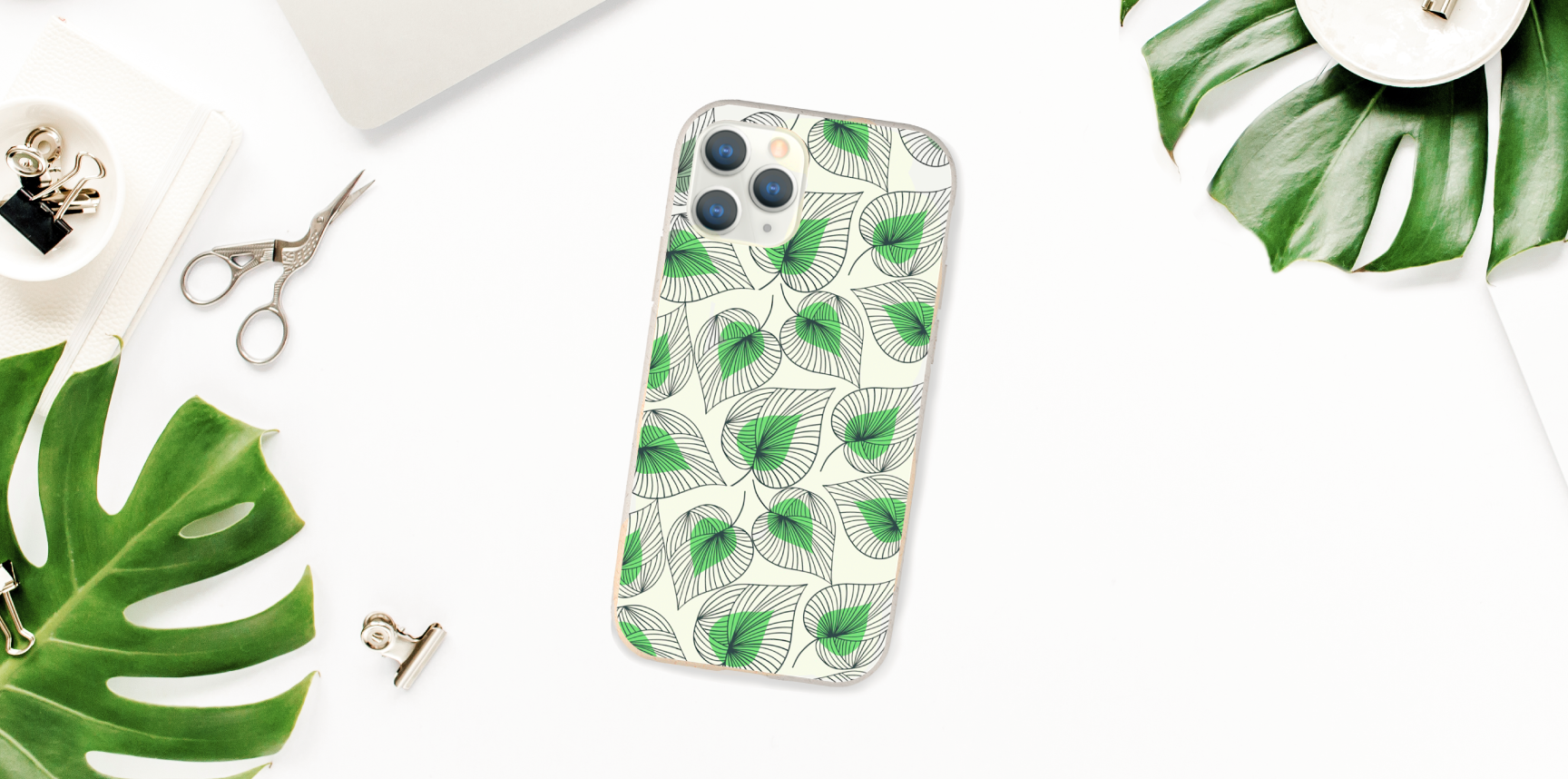 We are very excited and proud to say that we are expanding our eco-friendly collection. These awesome biodegradable phone cases not only look ace, but they are super kind to the environment too.
As we all know the world is full of plastic waste, and phone cases play their part in that. Every year over 1 billion plastic phone cases are sold, and people are starting to rethink their purchasing decisions. Choosing to buy a biodegradable phone case over a plastic one, not only helps the environment, it helps to change people's attitudes towards plastic waste.
Eco-Friendly Phone Cases vs Plastic Phone Cases
The idea of a biodegradable phone case might worry some people;
Will it melt if it gets wet?
Does it break easily?
Does it have the same wear life as a normal case?
All these questions are valid, and the great news is that a biodegradable phone case can be viewed as the same as plastic cases. The case is designed to break-down over 160 days, but only under specific composting conditions, so you can rest assured it won't just fall apart if you leave it outside – let's be honest, that's not going to happen if your phone is still in the case.
Choosing an eco-friendly phone case doesn't need to be a conscious choice, in some instances the offerings can simply come down to price. Are eco-friendly products overpriced? Are you paying more to do your small bit for the environment? Again, they are valid questions, but an eco-friendly phone case will cost around the same as a good quality plastic phone case.
Introducing Our First Biodegradable Phone Case From WOYC
If you are already selling phone cases through Printify, you will no doubt have seen, or used WOYC as one of your print providers already. With the release of their first eco-friendly phone case, you can now expand not only your phone case offerings but also your eco-conscious range.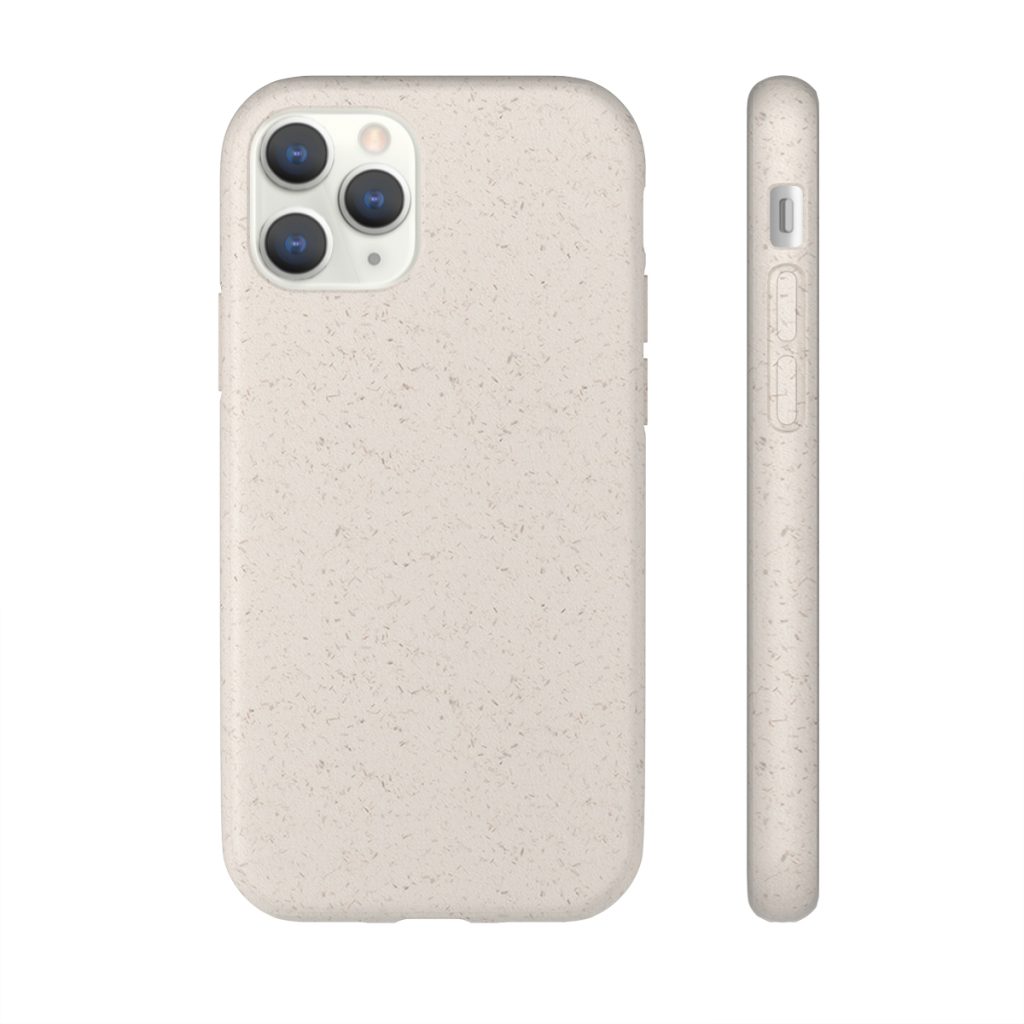 The case is made from a mixture of plant polymers and bamboo binders that provide a rigid, tough case that can withstand the daily rigors expected of it. The case features NO plastic whatsoever, meaning that it will totally decompose within 160 days after being disposed of.
Featuring a 3D wrap, you can add your customized designs to the backside of the case. Printing with high-quality inks, your design is transferred to the case for a hard-wearing, long-lasting image.
Currently available for the iPhone 12, iPhone 12 Pro, iPhone 11 Pro, Samsung Galaxy S20, Samsung Galaxy S20 Ultra, and Samsung Galaxy S20+ there are plenty of options to offer your customers. Especially with the worldwide fulfillment on offer, allowing you to sell anywhere in the world.
Here is another eco-bonus, the packaging is even recyclable. So no more plastic bubble wrap, no more plastic bags, just a great looking cardboard wallet that gives a fantastic opening experience.
So What Does Biodegradable Actually Mean?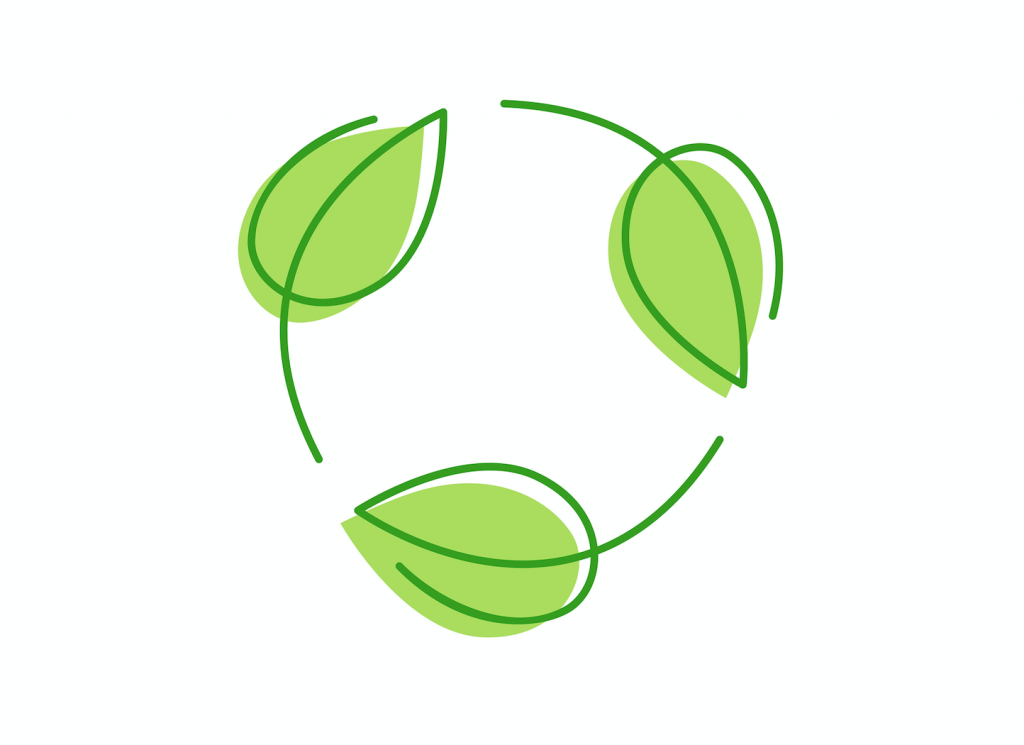 Biodegradable essentially means the breaking down of materials to a point they can return to nature. For any product, packaging or otherwise to qualify as biodegradable, they must completely break down and decompose into natural elements within a year of disposal.
On average it takes a plastic phone case 1000 years to break down. Even then it can easily find it's way into our oceans and even our food chain. The biodegradable phone case by WOYC is made up of natural materials, including bamboo binders and plant polymers.
Biodegradable products help to reduce the amount of waste on landfill sites, in turn contributing to a cleaner and healthier environment. Biodegradable materials include corrugated cardboard, paper, and even some plastics. Most plastics, however, are not biodegradable and can take up to 1000 years to breakdown.
What is a PLA plant polymer? Without getting too scientific, PLA is a polymer made from renewable resources. Unlike other thermoplastics that are petroleum-based, some of the raw materials used for PLA's production include corn starch, tapioca roots, or sugarcane. Another term for these is bioplastic.
Why a Biodegradable Phone Case Makes Sense?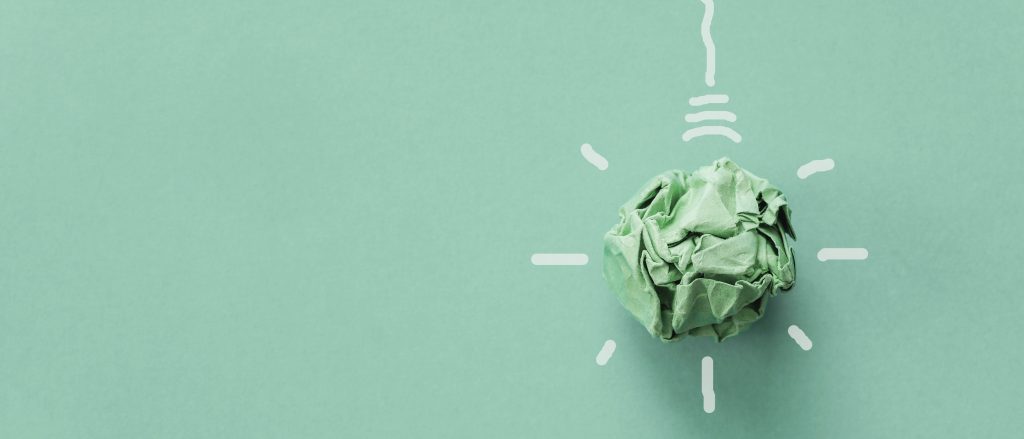 There is no reason why we can't all be a little more eco-conscious, and with over a billion plastic phone cases sold every year, even a small change in our thinking will make a huge difference. Phone cases are not only used to protect the device they are also used as a way to make a statement. Often reflecting a person's social and cultural preferences, it's a way for people to show off their brand preferences, to show their support for a band, inger or celebrity. Phones cases have become as relevant as the phone itself, sometimes, even more so.
With an eco-friendly phone case, your customers can now make more than just statements, they can take action, towards a better environment.
The Shift Towards Eco-Conscious Buyers
Customers are buying more consciously now, although we are a long way from eco-friendly only.
A 2019 study by GlobalWebIndex into sustainable packaging found that 53% of consumers have reduced the amount of disposable plastic they use in the last 12 months.
This shift has also impacted on how people shop, for example, 42% of consumers agreed that whether a product is sustainable or not, influences their buying decision.
It is this conscious shopping that plays perfectly into the hands of the phone case merchant. Eco-friendly products are cool, but they are also good for the environment, this is a winning combination and larger brands are also starting to utilize this.
Who Are the 2020 Consumers?
Research conducted by IBM on 'Why brands must deliver on omnipresence, agility, and sustainability' highlighted that the consumer in 2020, can be broken down into four categories. Each of the four categories revealed some very interesting facts about who you should be targeting when it comes to value-driven, vs product-driven branding.
Value-driven consumers want good value, convenience, and products/services to simplify life and are willing to pay for those benefits.
Purpose-driven consumers seek products and brands that align with their lifestyle and those with health/wellness benefits.
Brand-driven consumers trust brands, and brand is a major factor in their purchasing decisions.
Product-driven consumers focus on product functionality.

More and more people are aware of what goes into making a product. It's getting harder for manufacturers to hide these elements. In a 2020 report by IBM, it was found that nearly six in 10 consumers surveyed were willing to change their shopping habits to reduce environmental impact. Nearly eight in 10 respondents indicated sustainability is important for them. And for those who say it is very/extremely important, over 70 percent would pay a premium of 35 percent, on average, for brands that are sustainable and environmentally responsible.
Why Selling Eco in Your Store Is a Must
If there is an option to offer an eco-range, it would be a little short-sighted not to do so. If we look at biodegradable phone cases, this is not only a great way to expand your current range, but it's also a way of appealing to a potential new audience that actively seeks out eco-friendly products.
Adding an eco-friendly phone case to your store doesn't mean you need to change focus or even change your branding. But it does allow the customer to make a choice, based on their preferences – this is the way consumers are shopping.
Customers also love innovation, if your store is constantly looking at ways to evolve and improve its offerings, your customers are always more likely to return. You can start to educate your customers and audience about your products, offering exclusive offers on brand new biodegradable phone cases.
5 Awesome Design Ideas for Your Eco-Friendly Phone Case
Being eco doesn't mean boring. It's not all about earthy tones and conservative designs. If you take nature as an example, there is nothing conservative about it, it's an explosion of colors, shapes, and patterns – where better to draw some inspiration.
Just because you are selling an eco-friendly phone case, doesn't mean you have to stick to eco-warrior status, the phone case is the vehicle to carry your designs, as outrageous and colorful as they might be.
So, we have chosen 5 design ideas that you can use on your biodegradable phone case store. Just remember that with Printify, the only limit is your imagination.
Eco Icons / Logos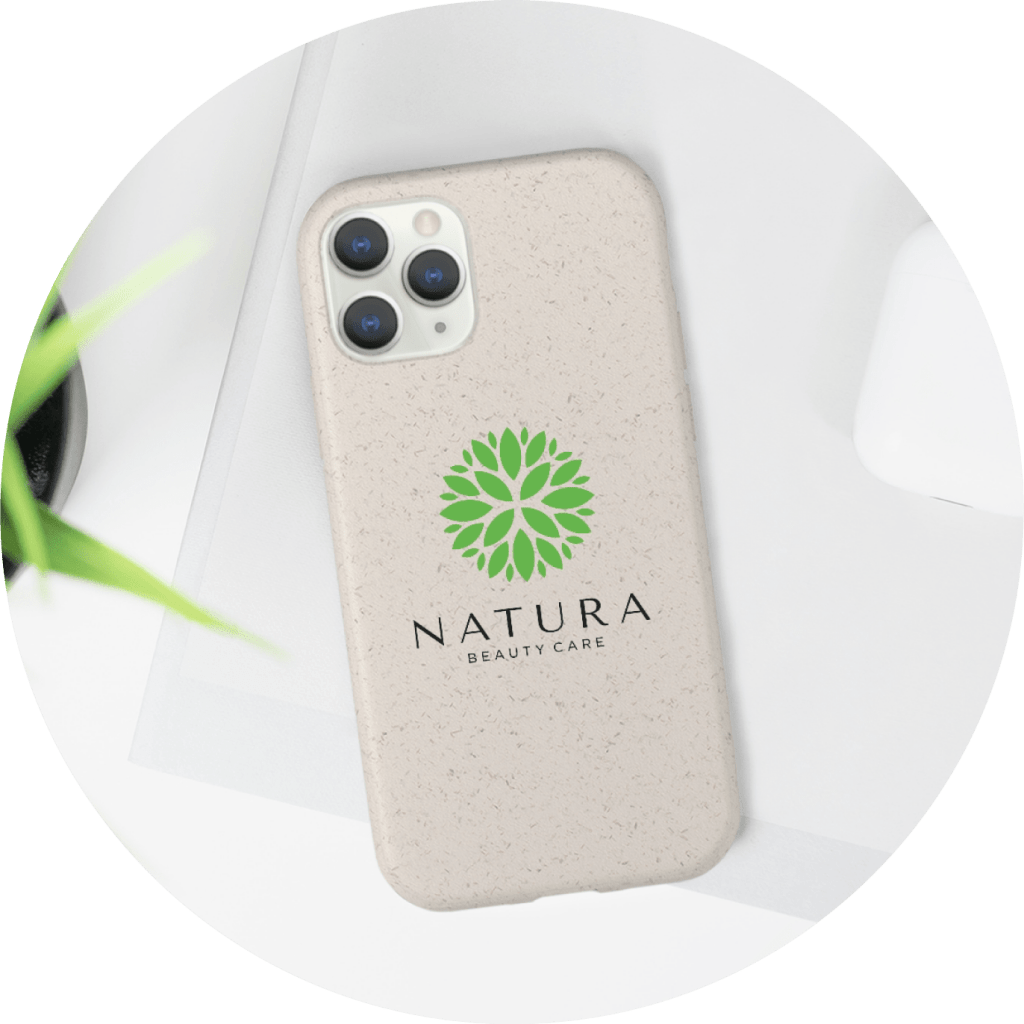 OK, so we said you don't need to be all eco-warrior, but this is a biodegradable phone case after all. Icons and logos can say a lot while keeping your phone case design clean and contemporary. From something as simple as a plant icon to a logotype design that shows your support for eco-friendly causes.
Icons are a fun way to approach a serious topic such as climate change or environmental awareness. Adding a subtle but powerful statement to your phone case range.
Natural Patterns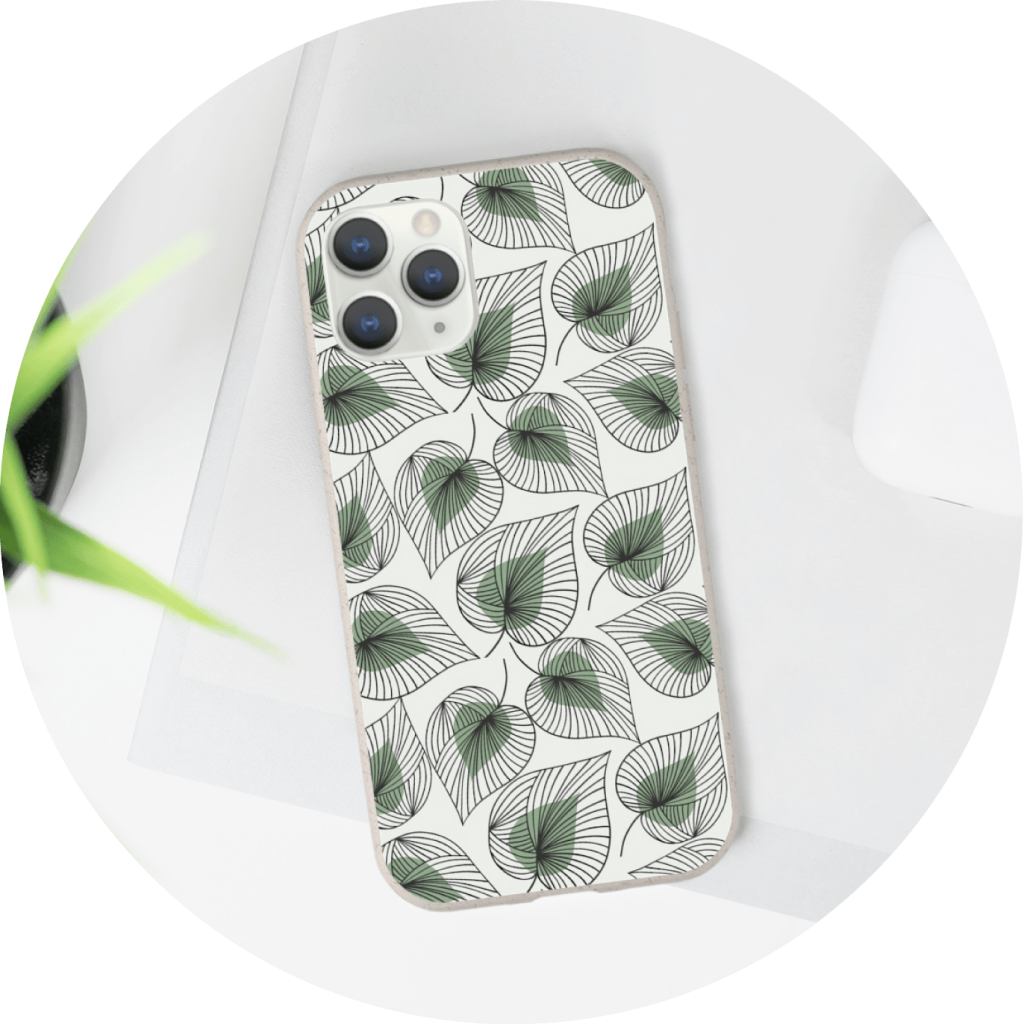 Nothing says eco-friendly phone cases more than a natural pattern. From flowers to jungle leaves, there is inspiration all around us. Natural patterns work well on almost any product or garment, but they have a special meaning on a biodegradable phone case. You can be bright, or earthy, you can be bold or subtle, this is the beauty of nature.
A top tip is to choose a design that will stand out against the color of the case. If that's not possible, place the image on a dark background to help make it pop.
Environmental Quotes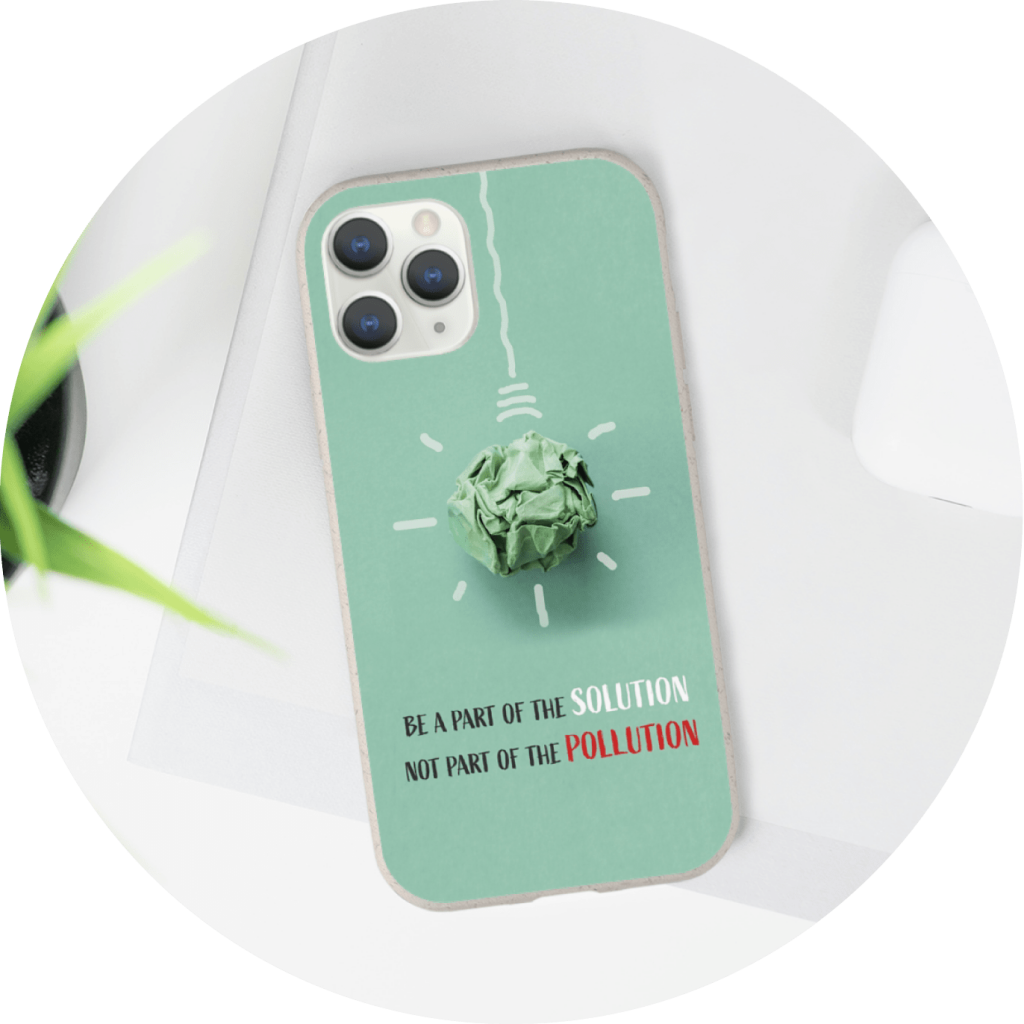 If your store is all about being eco and raising awareness, you can design some cases that offer environments quotes. This is much more of a niche audience, but those who really believe and stand for something are also more likely to buy into your branding and your message. You can come up with your own quotes, or take some of the most famous quotes from activists and celebrities who have made a stand against pollution and environmental issues.
Green Range to Existing Brand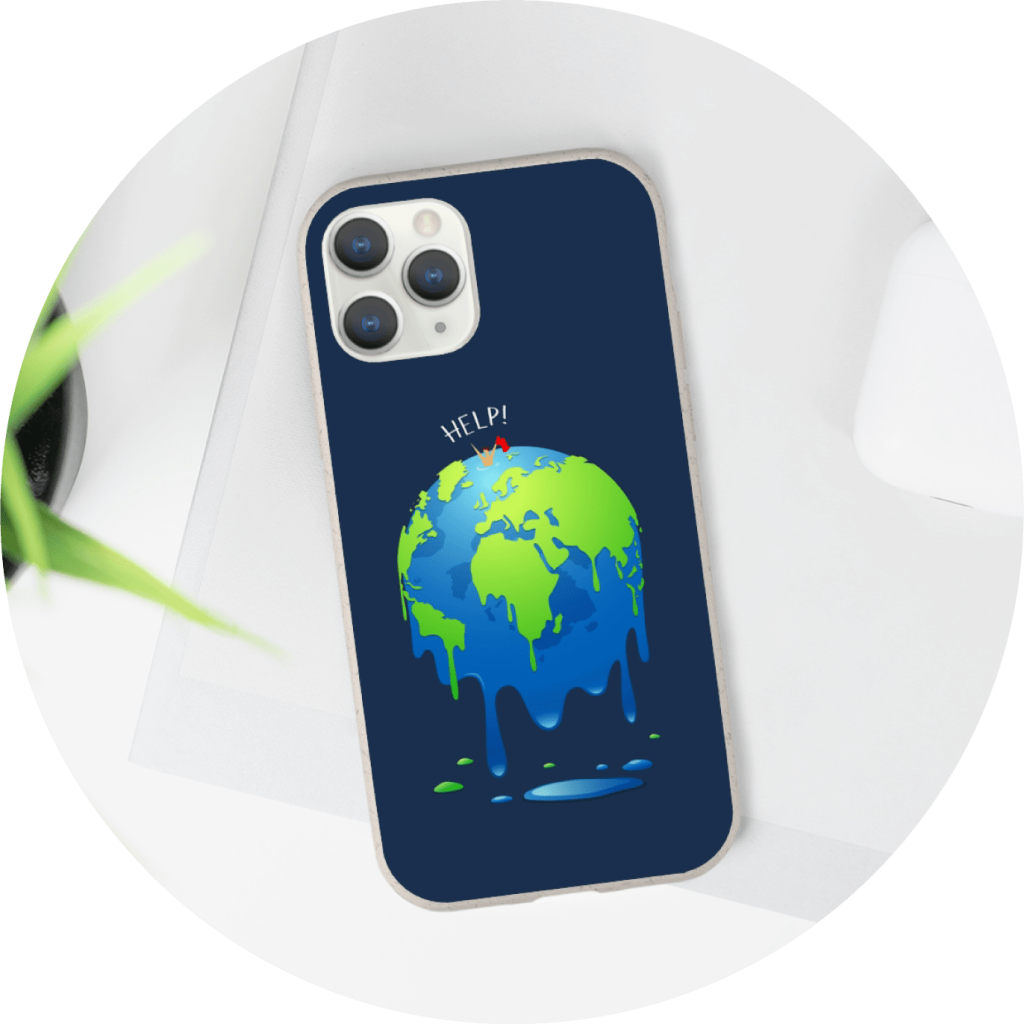 Expanding your collection of eco-friendly products is not only a good bit of marketing, but it also shows your thinking for sustainability. This is what your existing customer base looks for, ways to buy more products from one reputable brand that aligns with their belief or style.
You can also use this opportunity to test a new market by announcing a new 'Green' or 'Eco' range to your existing products. You could add for example a simple logo to your eco range or use certain colors to differentiate your biodegradable phone cases from the rest.
Endangered Animals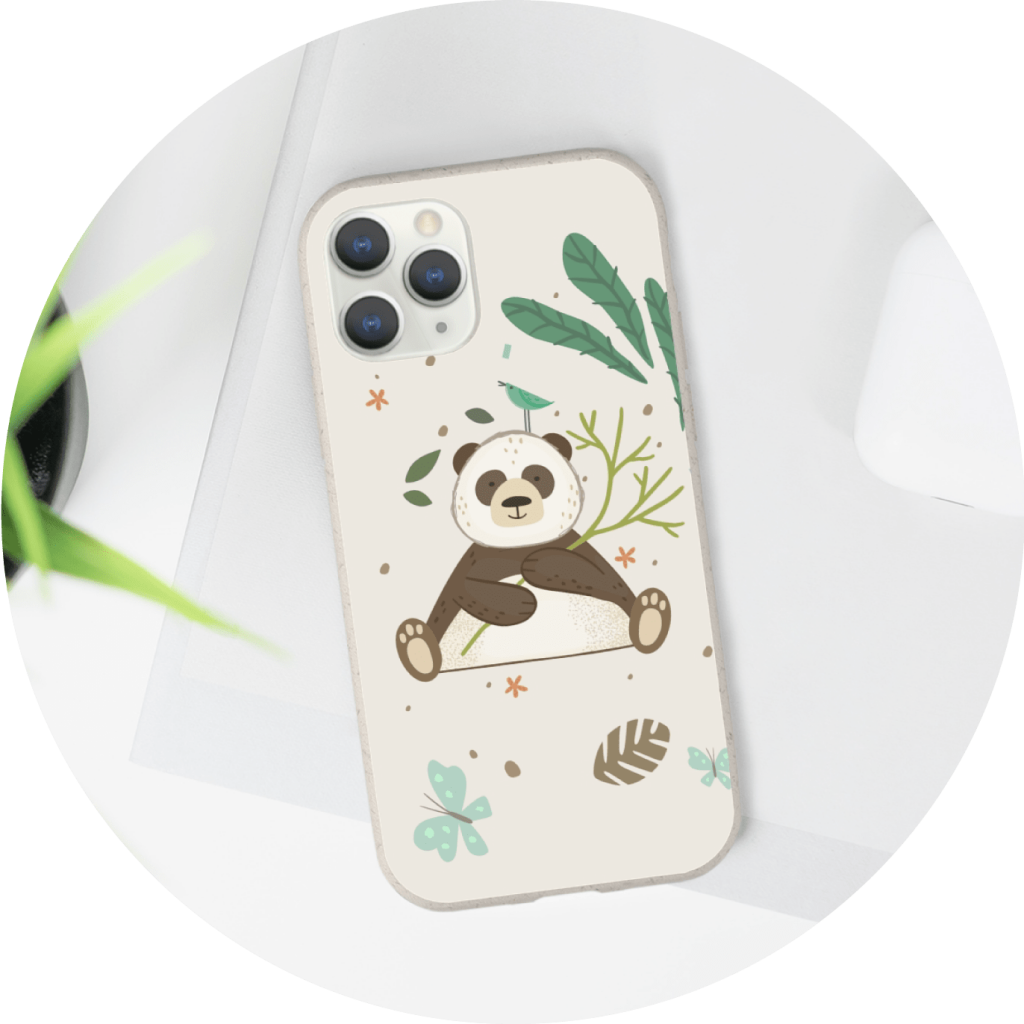 Showing support for endangered animals should not really come down to being eco or not. This is a topic that everyone on the planet has a duty to address and by releasing a range of biodegradable phone cases that feature endangered animals, your store can continue the good fight to protect some of the planet's most iconic species.
You can even set up a foundation where a certain percentage of every sale in this range is donated to charities and initiatives that work hard to protect endangered animals.
Kickstart Your Eco-Friendly Phone Case Range
Selling biodegradable phone cases is not just about being more eco-friendly. The cases look great, they are as durable as plastic, support wireless charging, and offer everything you would expect from a protective case.
Adding your new range couldn't be easier, in just a few steps you can go from being a regular phone-case seller to an eco-conscious, sustainable seller that appeals to a whole new market. The best part of all this is that there is no minimum order and you can get started with almost no investment.
The protective phone case industry is worth over $20 billion per year, and it's showing a year on year growth of over 7%. With figures like this, it's easy to see why finding your niche in the industry can be extremely profitable. Add to the fact that you don't pay for anything until you make a sale, the risk is very low.
Our print providers take care of everything from fulfillment to shipping, so all you need to concentrate on is marketing and designing, and that's the fun bit right.
So make sure you kick-start your eco-friendly phone case brand today with Printify and do your bit for the environment, it will feel good, we promise.
Make it happen right now.
Share the article
Topics