5 Best Shirts For Sublimation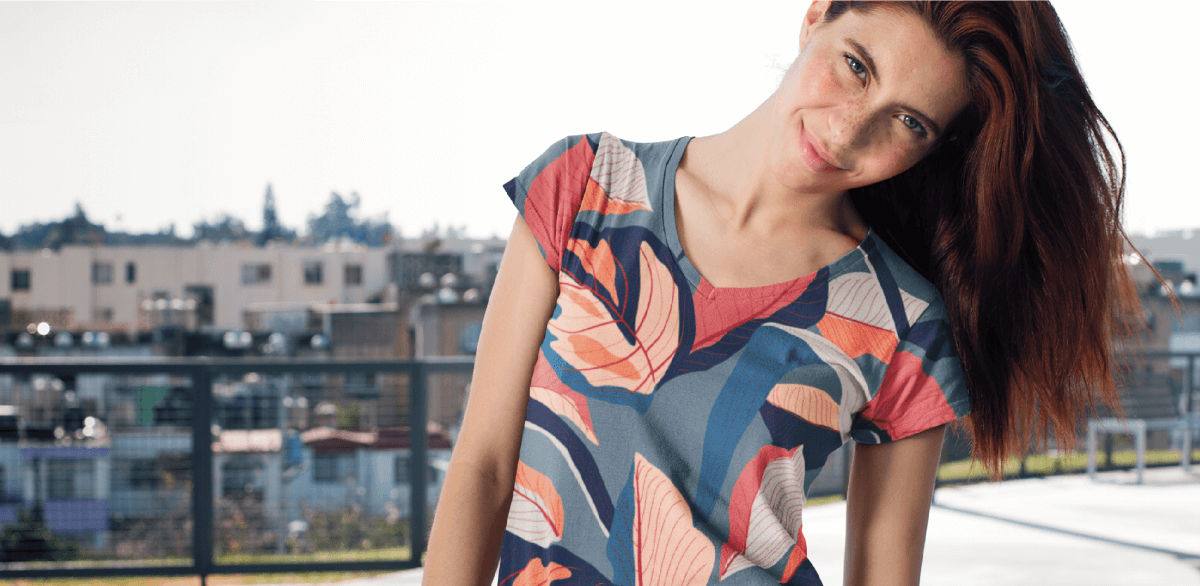 Is a plain white tee not your cup of tea? It means you must be into sublimated t-shirts. In this post we're going to tell you all about sublimation printing – what are the best shirts for sublimation, why cotton is not your friend, and other helpful information, so that you can get the most out of the entire sublimation process.
The most important thing to get right with sublimation is the blank shirt itself. The shirt is the canvas for your beautiful designs, so you definitely want to choose the perfect one – a shirt that won't fade, cling, itch, and so on. For your convenience we have chosen the five best shirts that will work perfectly with this eye-catching printing technique.
The perfect shirt for sublimation is of good quality and is mostly made of polyester that works oh so well with sublimation transfers. So, without any further ado, let's take a closer look at the whole process.
How Does Sublimation Work?
Shirt printing with the sublimation method is a distinct method of printing in which the print is first transferred onto a special sheet of paper and only then onto a polyester or polyester mix fabric, creating a bright and vivid garment with a pattern that covers it from seam to seam. Then the ink is heated until it thoroughly penetrates the material and can withstand hundreds of wash cycles.
What Shirts Are Best For Sublimation?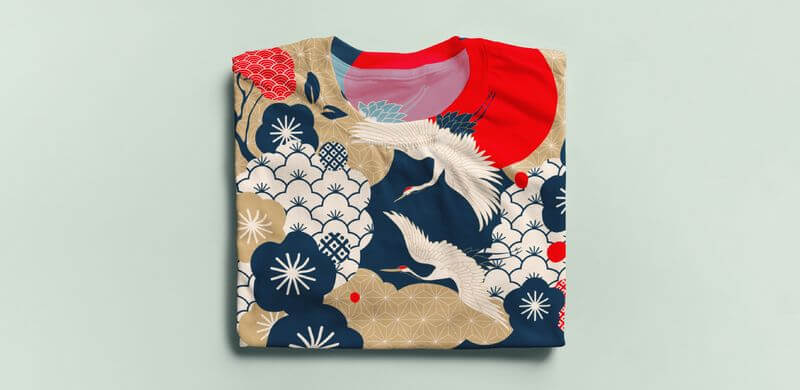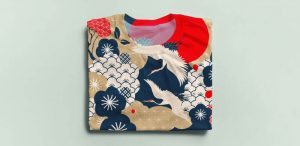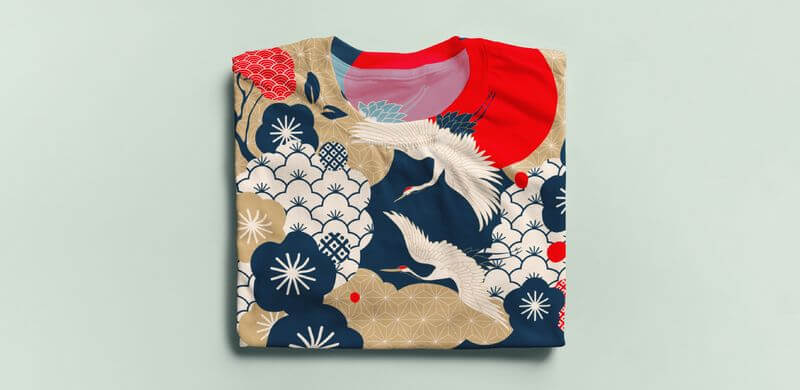 As much as we'd like to, sublimation isn't suitable for natural fibers like silk or cotton. Why? Although technically it would be possible to print on cotton shirts, the image would not be permanent. Also, cotton fibers are significantly more absorbent; thus, the outcome is not appealing. 
When it comes to silk, it becomes damaged during the process as the fabric is not heat resistant. So, the sublimation method it's only suitable for garments that include pure polyester or polyester blend – at least 80% of the mix.
There are many different blends and materials you can find for a t-shirt, but only some will work for sublimation printing. You want to use no less than a 65% poly blend for a sublimation image to transfer the dyes into the fibers of a shirt successfully. Anything less than 65% will wash out after the first wash.
Polyester shirts are so pleasant to the touch – they're not scratchy or clingy, and feel so lightweight and comfy. And let's not forget the wow factor of AOP designs: when a pattern covers every inch of the shirt, it's simply beautiful.
Will 50/50 Shirts Work For Sublimation?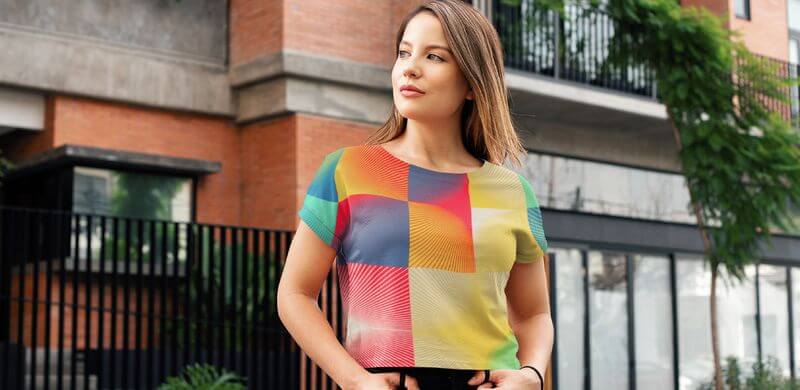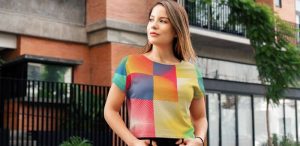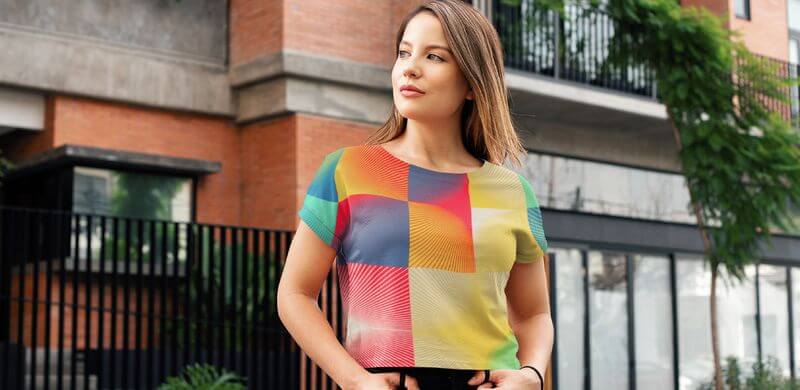 Here's the deal: when we say the fabric must contain at least 80% polyester, there's science behind this claim. Polyester shirts work best for this printing method, as sublimation ink needs to penetrate the material. 
Only the polyester yarns will hold the ink, mainly because when exposed to heat the polymers present in this fabric can easily open up. The dyes in sublimation inks can bond with polyester molecules, enabling you to transfer your designs with the highest quality. It is also essential to pick light colors for the background with this method, so your logos, images, and motives turn out well. 
When it comes to half and half materials, like 50% cotton and 50% polyester, remember that if the fabric is a 50/50 blend, 50% of the sublimation ink will not saturate 50% of the material, resulting in a lot less color. The image will look faded, with very poor definition and dull colors that worsen after washing. In this case, cotton shirts aren't your friends; Poly blend shirts are your best buddies.
Create Your First Sublimation Shirt
5 Best Shirts For Sublimation
In the Printify catalog you will find all-over-print clothing and accessories, from socks to custom swimsuits to various tops to leggings. But today, let's talk about quality sublimation t-shirts. From polyester shirts to perfect cotton & poly blends, for that perfect outcome you're looking for.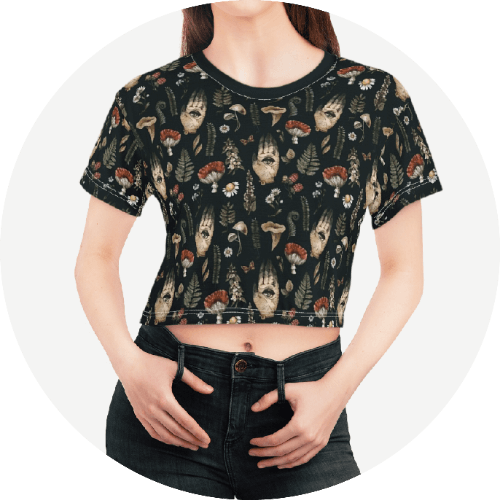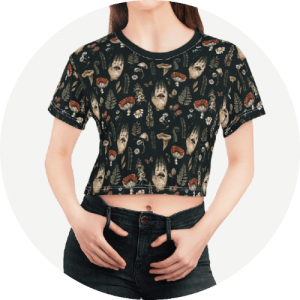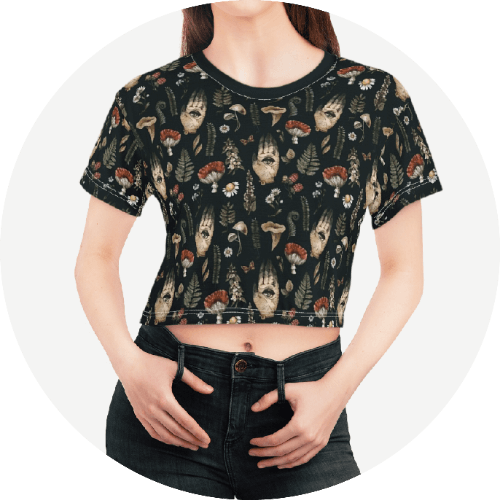 This shirt for sublimation is 100% polyester, which means the printing outcome will be in full bright color. Printify's custom crop top will definitely score a win for your customers' wardrobe. Its lightweight fabric makes it perfect for wearing at the gym – 100% polyester means it will dry quickly and is super breathable. 
But don't just think it's suitable only as athletic wear. This AOP cropped tee, adorned in bold prints in lively colors, is ideal for everyday wear and will surely catch people's eyes. Unlike cotton t-shirts, this 100% poly shirt will not stretch out over time, even after many wears and washes.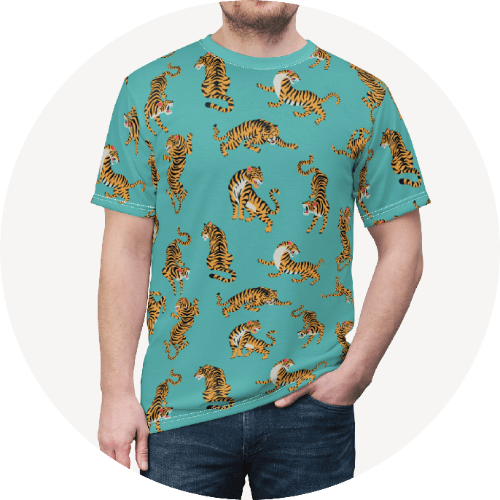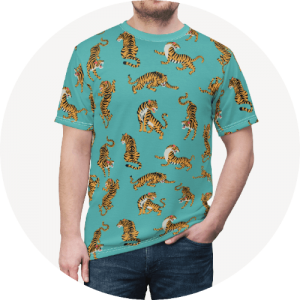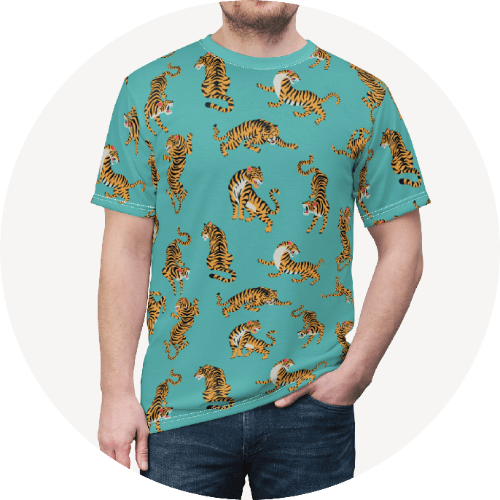 This shirt also comes in 100% polyester fabric. Because of its unisex fit, this is the most versatile all-over-print t-shirt in our collection. Being tagless, it will protect your customers' necks from those nasty itches and scratches, and the lightweight polyester material makes it extra comfy and breathable. 
The properties of this synthetic fiber work perfectly with the sublimation dye, creating a stunning end product. This shirt also comes with side seams that help retain its shape and looks very flattering when worn.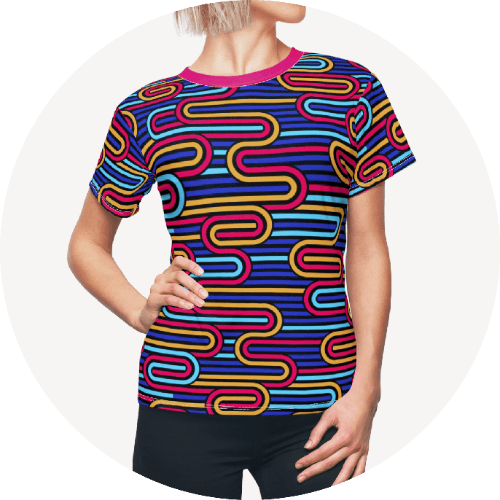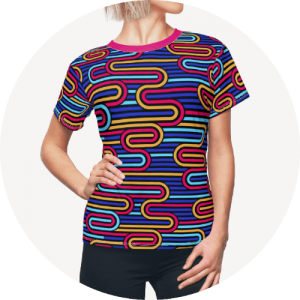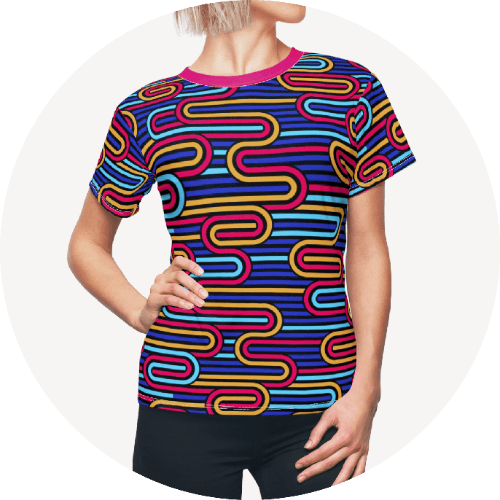 Another 100% polyester shirt. It's a regular women's fit, lightweight and durable, and the perfect length to tuck in for a more trendy look. Its ribbed knit collar helps keep the shape and look like new even after dozens of washes. The same goes with the shoulder tape – this cut & sew sublimation shirt won't lose its shape and will look super flattering. 
What is 'cut & sew'? It means that the image is transferred onto raw fabric instead of a pre-sewn shirt, ensuring that the pattern covers every inch of the garment. After that… well, the fabric is cut and sewn!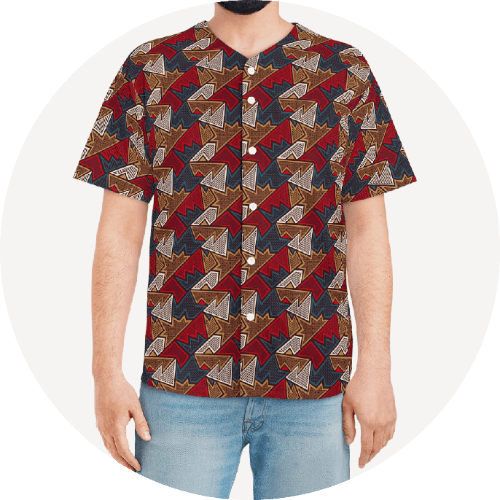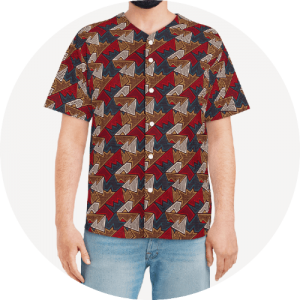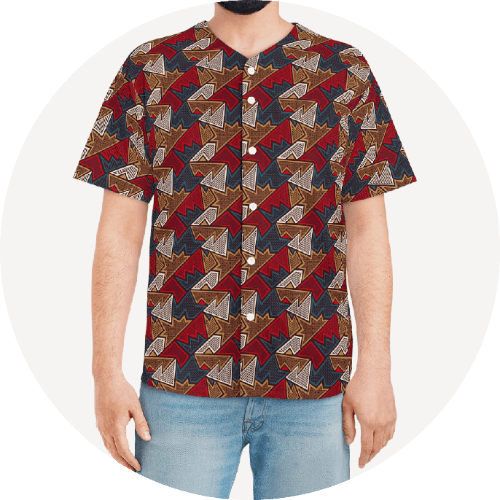 Printify's sublimation baseball jersey comes in 100% polyester fabric, guaranteeing bold and vibrant colors that won't wear off. This shirt is made of medium-weight breathable poly, resulting in a nice, semi-flowy fit suitable for both athletic wear and everyday casual looks (or not so casual, depending on how wild your design ideas are). The properties of poly material ensure the printed shirt won't fade in the sun.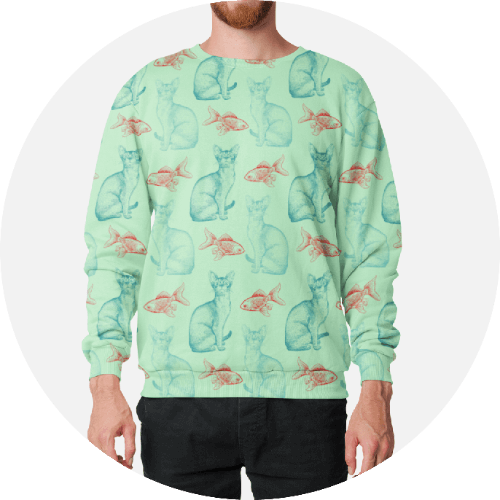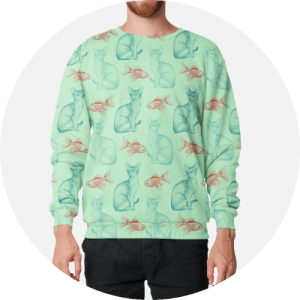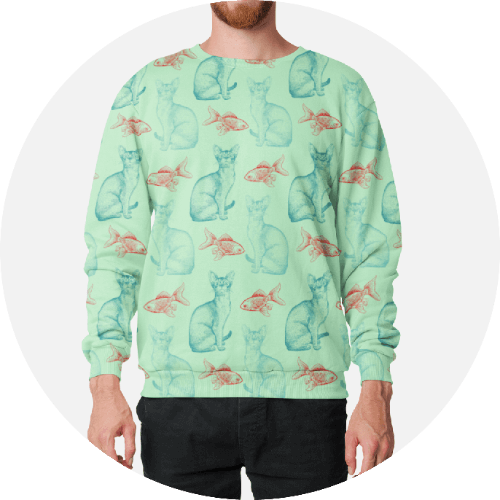 Let's add some cotton to the mix. This all-over-print sweatshirt comes in a perfectly blended sublimation material with 86% polyester and 14% cotton – just a little bit. Still, it makes all the difference, making this sweatshirt comfy and warm without losing color saturation. Unlike 100% cotton sweatshirts, this one dries quickly, thus being worn even at the gym. 
This sweatshirt is 'cut & sew', meaning your pattern will cover every square inch of it, even between the seams, which means no awkward white areas in a beautiful continuous print.
The answer to this is simple – because Printify is one of the best in the business. It is free, simple, and you can make POD dropshipping your main income. And consider this: you only need to come up with designs and choose the products you want. The rest is done for you by Printify. There's a vast catalog of 800+ items for you to customize and a network of over 90 print providers from all around the globe. Printify indeed provides you with all the tools so you can sell & earn more: 
After reading all this, we hope you have a deeper understanding of sublimation. Now you know that cotton is not your friend with this technique, but polyester is your absolute best buddy. 
As foreign as the word 'sublimation' may sound, it is simple. Once you have a design in mind, simply upload it to the Printify Mockup Generator and play around until the product in the preview looks like what you've imagined – it really is fun to work with all-over-print designs and create bold and eye-catching custom all-over-printed t-shirts and other cool merchandise. Go ahead and make your first sublimation shirt.
Printify Has Got Your Back In Every Step Of The Way!
Share the article
Topics