Alstyle 1301: Product Review, Available Colors & Size Chart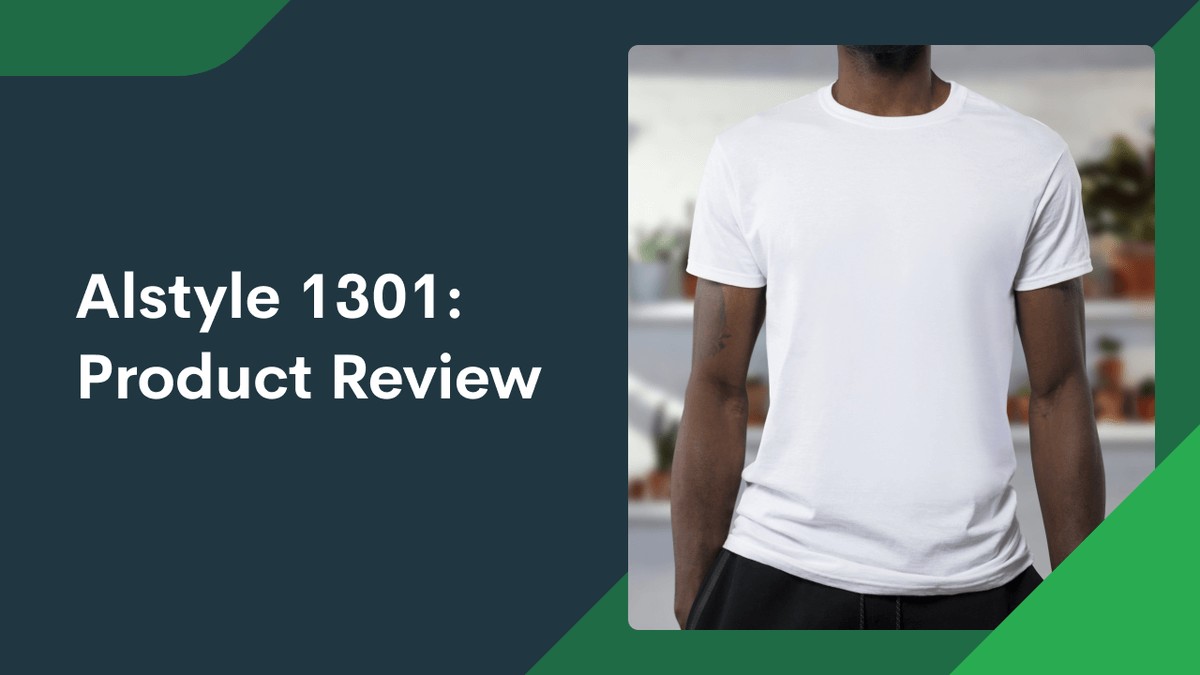 You might wonder – what makes a shirt great? Its simplicity, its comfort? The Alstyle 1301 short-sleeve tee provides you with everything you'd expect from a 100% cotton t-shirt and offers a few more features on top.
It's a casual-style cotton shirt you can wear anywhere, whether at home, at work, family barbecue, or fancy cafe. In addition to being perfect for any location, it's also ideal for most casual and formal activities.
To help you understand if this short sleeve t-shirt is your next bestseller, let's take a closer look at its selling points and features.
This 100% cotton t-shirt will provide comfort wherever you go. It's made from preshrunk cotton, which is sure to minimize shrinkage. Tear-away labels are easy to remove and won't damage the shirt or bother the wearer. All shirt variants come with a tear-away label.
This short-sleeved tee sports a ribbed collar, double-needle sleeve, and bottom hem, but what does that actually mean? That's easy – it makes your t-shirt more durable. A double-needle sleeve and bottom hem will also make the tee last significantly longer than one with the more common single needle stitch.
Another thing that makes this 100% cotton t-shirt more durable is shoulder-to-shoulder taping. Twill tape covers the shoulder seams to stabilize the back of the shirt, which prevents the fabric from stretching. In addition to that, the rib collar will stretch as you pull your head through it but take its original size right after.
Cold wash at 30°C/90°F is best for this 6.0 oz 100% cotton t-shirt. Avoid bleach and dry cleaning to have it look as good as new for the longest time. Tumble dry at low heat.  
A rib collar with shoulder-to-shoulder tape, double-needle sleeve, what else could you ask for? Well, the shirt also comes in a notable selection of colors.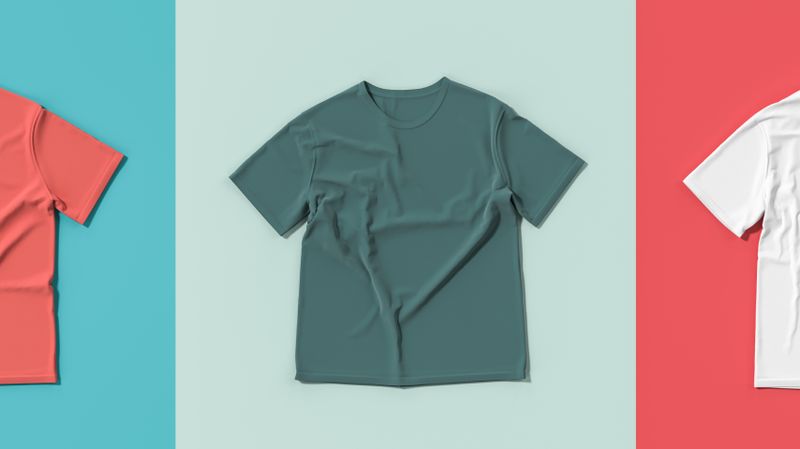 It comes in a wide range of colors and will provide you with absolutely breathtaking prints. Regarding materials – all solid colors are 100% cotton. 
The Athletic Heather – 90/10 cotton/polyester; Charcoal Heather and Safety Green are 50/50 cotton/polyester; Ash – 99/1 cotton/polyester. The preshrunk cotton Safety Green with the right design is sure to be a favorite among your customers!
This print provider offers the widest selection of colors and designs fit for most occasions. There are a total of 12 different trendy tee colors to choose from.
Available colors: White, Athletic Heather, Sand, Gold, Cream, Forest Green, Powder Blue, Carolina Blue, Royal, Navy, Black, Pink.
They offer a selection of the six most popular colors to which you can add your exceptional designs.
Available colors: White, Athletic Heather, Sand, Navy, Black.
This print provider also offers a selection of the most popular colors and is the only one on this list with Charcoal Heather. There are six different colors to offer your customers.
Available colors: White, Athletic Heather, Sand, Charcoal Heather, and Black.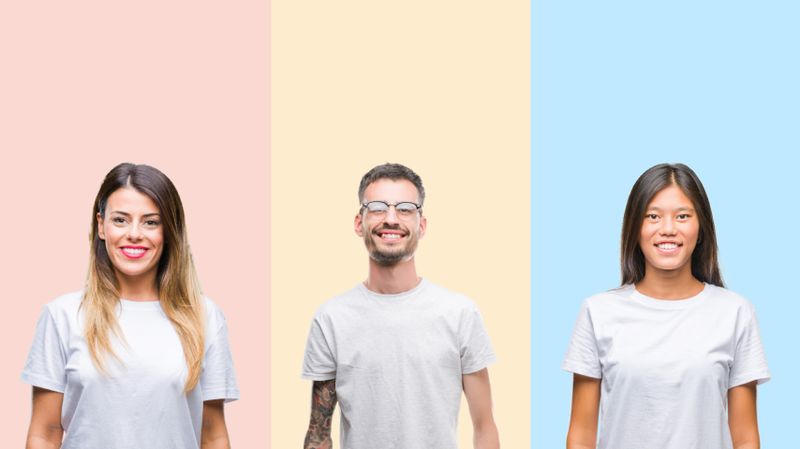 These tees come in some of the most popular sizes. We'll share the imperial and the metric size chart below, but you can also see it on the product's page. As it's pre-shrunk, you and your customers don't need to worry about sizing up.
| Imperial | S | M | L | XL | 2XL | 3XL |
| --- | --- | --- | --- | --- | --- | --- |
| Width, in | 18.00 | 20.00 | 22.00 | 24.00 | 26.00 | 28.00 |
| Length, in | 26.50 | 28.50 | 30.50 | 31.50 | 32.50 | 33.50 |
Width, in
S
18.00
M
20.00
L
22.00
XL
24.00
2XL
26.00
3XL
28.00
Length, in
S
26.50
M
28.50
L
30.50
XL
31.50
2XL
32.50
3XL
33.50
| Metric | S | M | L | XL | 2XL | 3XL |
| --- | --- | --- | --- | --- | --- | --- |
| Width, cm | 45.72 | 50.80 | 55.88 | 60.96 | 66.04 | 71.12 |
| Length, cm | 67.31 | 72.39 | 77.47 | 80.01 | 82.55 | 85.09 |
Width, cm
S
45.72
M
50.80
L
55.88
XL
60.96
2XL
66.04
3XL
71.12
Length, cm
S
67.31
M
72.39
L
77.47
XL
80.01
2XL
82.55
3XL
85.09
This t-shirt is currently offered by three US-based print providers. Ink Blot offers the most colors and historically has the fastest production time averages. Both SwiftPOD and JAMS Designs offer bulk price breaks, but SwiftPOD offers the cheapest single product prices and shipping options.
As a type of quantity discount, your bulk order may qualify for a shipping fee discount if it consists of 60 or more products. This discount is only available upon request.
Be mindful that white base products are commonly the cheapest product variants and more unusual colors are also usually the most expensive.
If you're selling large volumes of products regularly, consider subscribing to Printify Premium. This subscription plan gives you access to lower production prices, resulting in significant overall savings for your business.
Great! This t-shirt is made from quality materials, and people love it. It has a classic t-shirt fit, a ribbed collar, double-needle sleeve, shoulder-to-shoulder taping, and it's super soft. It's also manufactured in a way that helps retain its shape for as long as possible.
It comes in various sizes and has an extensive collection of colors. This t-shirt is good for nearly any occasion, so let your mind run wild with endless design possibilities.
If you're looking for a solid and reliable shirt that guarantees your next sale, this cotton t-shirt might be just what you're looking for. Are you ready to receive great customer reviews if you ship the easy-going comfort of this cotton tee to your customers?
Share the article
Topics